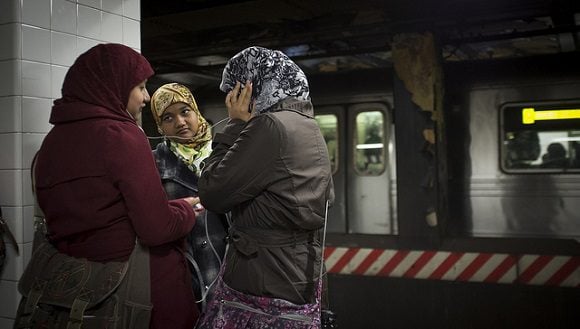 By Engy Abdelkader
Our president has a history of using anti-Muslim stereotypes sounding in misogyny and oppression.
Last July, for instance, his attack against Gold Star mother Ghazala Khan sparked a firestorm of public controversy, bi-partisan rebuke and several direct responses from the assailed Muslim American woman who chose to remain silent next to her husband at the 2016 Democratic National Convention.
The false assumption underlying Trump's accusation that the grief-stricken Mrs. Khan "wasn't allowed to have anything to say" as her husband delivered his powerful speech on their behalf highlights how stereotypes are weapons wielded against a subordinated group.
More recently, on January 27th, Trump unsheathed that sword when he signed the original Muslim Ban stating: "In addition, the United States should not admit those who engage in acts of bigotry or hatred …including "honor" killings [or] other forms of violence against women…"
On March 6th, Trump replaced the original ban with a new one that not only excludes immigrants from six Muslim majority countries but also requires the government to collect data surrounding the frequency of "honor killings" in the U.S. Again, this Administration employs a stereotype to further marginalize an already marginalized minority.
Still, this Women's History Month, Trump's concern with Muslim women's experiences confronting bigotry, hatred and violence is a welcome opportunity to educate and dialogue.
In both the U.S. and European Union, Muslim women observing hijab are vulnerable to verbal and physical attacks. And, while so-called "honor killings" are seen as undermining women's rights, such hate crimes are generally viewed through the lens of religion alone.
In other words, when victimized by co-religionists in a so-called honor crime, a Muslim woman is in fact a woman who enjoys the full protection of the international human rights legal regime. She is often stripped of that status, however, when members of the majority or "in" group visit violence on her. She is then Muslim.
In reality, Muslim women's experiences with bigotry, hatred and violence are influenced by multiple and intersecting aspects of her identity including religion, gender, race, ethnicity, immigration status, disability, etc. In fact, in the public sphere of hate crimes, the slurs used at the time of her attack evidence the perpetrator's awareness her unique status as a woman (arguably revealing the bias motive underlying the incident).
Below are a few representative examples highlighting the relationship between language and the victim's intersecting identities:
• In 2008, a man murdered a pregnant Muslim woman in Dresden, Germany. Initially, the man saw the victim with her son at a playground where he called her a "slut," [speaking to her gender] and an "Islamist terrorist" [speaking to her religious identity]. He also demanded she remove her headscarf. Later, when he was prosecuted in court, he lunged at his victim with a knife and stabbed her 18 times.
• In 2011, a prominent British journalist and political commentator who was awarded the European Muslim Woman of Influence Award was attacked on social media by a political activist who called her an "Arab whore" [speaking to her race and gender].
• In 2015, while riding a bus in London, a pregnant Muslim woman was verbally assaulted by another women who threatened to kick her in the stomach while repeatedly referring to her as an "ISIS btch," "sand buckets," and "sand rats" thus evidencing her awareness of the victim's gender, religion and race.
• In 2016, a male passenger on a New Jersey transit train attacked three Muslim American college women in hijab. Initially, he asked, "Why are you staring at me, ha? Why are you staring at me you fking Muslim btch" [speaking to her religion and gender]. He then spit at one of the students.
While some argue that these women were attacked exclusively on account of religious identity, the language used at the time of the crimes suggest otherwise. This is an important consideration for women's rights advocates and feminists to reflect upon.
Significantly, Muslim American women are often responding to bigotry, hatred and violence with strength and courage.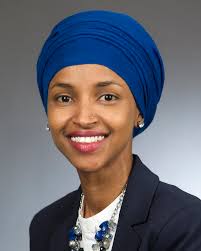 Ilhan Omar, a black Muslim woman who observes hijab and loves politics, is illustrative. In 2014, Omar was at a Minnesota Party Caucus, where she was working as an aide, when more than a half dozen people physically attacked her. She suffered injuries including a concussion. Still, she remained undeterred in pursuing a career in politics. She was determined to help minority communities.
And, two years later, in 2016, Omar won public office becoming the first Muslim female state legislator in Minnesota and the first Muslim, East African woman to hold public office in the country. Ilhan Omar overcame bigotry, hatred and violence, making American history.
It's important to note, however, that Omar is also a refugee. She fled war-torn Somalia as a young child together with her family. Today, women and girls like her are barred from entering our country or realizing their potential because of who they are and what they believe. The Muslim Ban doesn't just hurt them, it hurts us all – it hurts America.
And, this Women's History Month, Ilahn Omar's story reminds us of that fact.
Engy Abdelkader is research faculty at Georgetown's Edmund A. Walsh School of Foreign Service. A senior fellow with the Bridge Initiative, a research project on Islamophobia, her work explores the intersection of law, religion and society. This essay was adapted from a presentation made at a race, gender and intersectional inquiries conference at Notre Dame. A version of it originally appeared in onfaith.