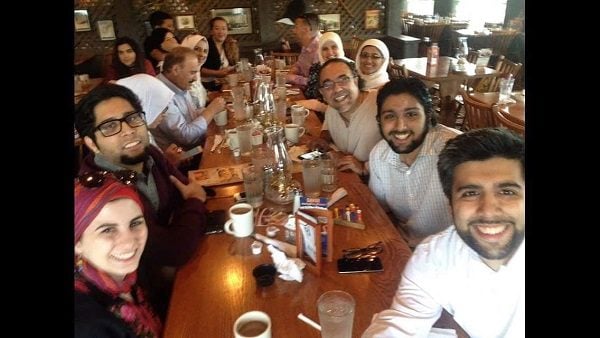 This is Day Three of the 2017 #30Days30Writers Ramadan series – May 29, 2017
By Zaki Barzinji
The last time I saw my brother Hamza was on Eid Al Fitr of last year. He was in high spirits and was constantly showing off the selfie stick he'd just bought for the grand trek across the Middle East that my family would depart for later that day. As the only family member who wasn't joining the expedition, it was a bittersweet sendoff for me after a particularly grueling Ramadan.
There was this perennial demon who's always popping up in my head and whose sole purpose of existence is to rattle off the many diverse ways that I've been failing everyone. This demon had been especially active last Ramadan.
Except, we're taught that the gates of Hell are locked up during this month, so I guess that's conclusive evidence that the demon is just another shade of myself.
That's another failure of mine, by the way. I often find a way of pivoting topics towards myself. Here I am talking about Hamza, and now it's about me. It's a practice that Hamza was the best at calling me out on. Once on his birthday, I posted a photo of us as kids on Facebook with a sappy message. He rebuked me for posting the photo on my own wall for a bunch of people who didn't know him to comment on, and he said I'd done it as much for myself as I had for him.
Maybe in my deep subconscious, I had done precisely that. Hamza still appears often in my dreams, sometimes as a sweet little boy, but often as his wry adult self, casually poking holes at my ego precisely when I need it most.
Hamza suffered epilepsy throughout his childhood that he eventually grew out of. But, severe allergies to nuts, plants and a variety of other things stuck with him. Those physical conditions also had a lasting psychological impact. He learned that he could not trust an outside world that always seemed intent on harming him.
As he grew older, he withdrew himself almost completely from it. He seldom left his room, he would rarely make eye contact with those who were not in his immediate family.
At the same time, he threw himself into creative expression. He would spend days writing his own comic books, screenplays, short stories. He'd always ask me to read his stuff, but I was almost always too busy — first with high school, then with college, then with my professional career and marriage. I did not make enough time to hear his stories and experience his creativity, to tell him that his voice mattered, and for that I will always be regretful.
In just the last year, Hamza finally began coming out of his shell again. He started researching his ancestral heritage and ended up planning an epic adventure that took my family across the Middle East.
It was in the middle of that journey of self-discovery and expression, half way across the world, that he had a sudden allergic reaction that took his life away in an instant.
The night before we washed and buried my brother's body, I joined hundreds of Muslim-American leaders at the White House for President Obama's Eid Reception. I was there to staff the President for the first time, and I couldn't have been any less prepared for that responsibility. All I wanted was to be with my brother.
And then I had an experience that connected me directly me to him in an instant.
A remarkable young woman named Aisha Osman, only a few years younger than Hamza, was trembling backstage. Aisha had written the President a simple letter in which she detailed her quest to get an education that her mother never had, but also the fact that she suffered at the intersection of anti-Black racism and Islamophobia.
She wrote that her classmates called her the n-word even as they tried to rip off her hijab. She wrote this letter to the President as an act of desperation, with not even the wildest dream that anyone would actually read it. And yet, it ended up on the President's desk. Thanks especially to the work of fellow staffer Asra Najam, we brought Aisha to introduce the President himself in front of her community's top leaders from around the country.
She was a nervous wreck who just wanted to withdraw into herself, like my brother. Backstage, I watched the President sneak up behind Aisha and tap her on the shoulder, and she nearly jumped several feet. He said "Look, I know you're nervous. I'll tell you a secret. I still get nervous too, every time I have to share. But those people out there need to hear your story, your voice."
Aisha went on stage, and she killed it. And for her, it wasn't just the President's words of encouragement, it was seeing a crowd full of faces like hers, each of whom were remarkable in some way. People with authority, who she looked up to, were at that moment looking up to her, and that feeling of a collective warm embrace overwhelmed her.
Afterwards, she told us, "I never thought they would care about my story. I never thought it was important enough."
My point in sharing these experiences, at the start of a new Ramadan, is this: Expressing our vulnerabilities is a Prophetic trait that we far too often bury rather than celebrate. For those who are in a position of prominence in their community, or even just in their own family, this becomes doubly important.
We must be more honest about our lives, both the challenges we face and our own flaws. It only increases respect, empathy and compassion. It is fundamental for people like my brother, and like Aisha, to know that they have permission to leave their own comfort zones. By making ourselves vulnerable, and encouraging vulnerability, we give hope and space to the marginalized and isolated among us to similarly put themselves out there, with the knowledge that they too shall be received.
This holiest of months is the perfect opportunity to put that spirit into action. To ensure our houses of worship are truly open and welcoming to all, that young Muslims who may already feel alienated in the outside world don't feel the same in their own mosques.
And for Ramadan homework, I propose that each of us identify an individual in our lives whose story needs to be heard — and tell them to their face that their story needs to be heard. That their voice matters.
The poet Hafez wrote, "I wish I could show you, when you are lonely or in darkness, the astonishing light of your own being." That's what we must do for our communities. That's what I wanted more than anything to do for my brother. Together, we will show each other our own astonishing lights, and together will fight back the forces of darkness and loneliness.
Zaki Barzinji is a writer and public affairs consultant and served as White House Senior Associate Director of Public Engagement and President Obama's liaison to Muslim-Americans. He lives in Virginia with his wife Michelle.