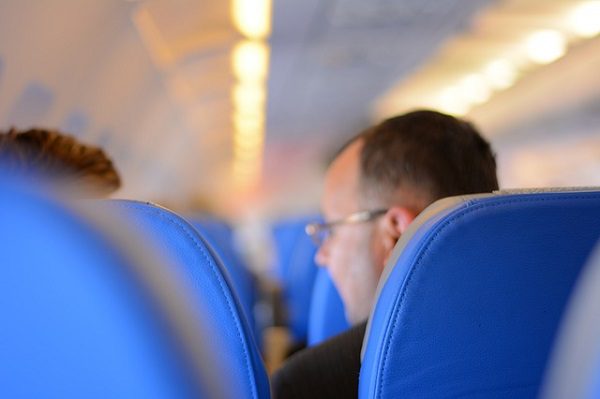 I don't believe that things are random, at least not for me. Maybe there's a divine hand behind it all, or maybe it is just a coping mechanism for me to get through my day. It does get me through my days. It's exhausting, but I try to derive meaning from everything in my life, and I am not always successful.
But like I said, it gets me through my days.
Last fall, the daughter of my dear teacher, mentor and friend passed away suddenly in Canada. I was in Washington, D.C. for something I made a priority to be at because I really wanted to be in D.C. (Yes, I not-so-secretly want to move there). I was set to return to Chicago the next day, and I did everything I could to try to be there for the funeral, but nothing was working. It was going to cost me several hundreds of dollars, and I wasn't even going to make it to the service.
I even explored driving all night from D.C. to the Canada, but that was not going to work. Before I went to bed that night, I tried one more time to try to find a flight out of all the area airports, and magically I found one out of Baltimore. Thanks to Southwest, it only cost me a few thousand points.
I couldn't believe it, but I knew it meant that I was meant to be there.
If anyone knows me, they know how much I love Southwest Airlines and consider myself royalty there. However, because I booked so late, I got a C seating assignment. That's abhorrent to me. (Have I said I was a princess?) My plan was to just upgrade to A1-15 at the counter when I got there.
It was the first flight out of BWI, and the counter wasn't open yet, or there must have been a longer line that just wasn't moving. I heard the flight starting to board, so I had to resort to plan B (meaning getting on before the B's). I'm an A-list (not preferred) member, and that allows me to get on the plane between the A's and the B's and before families.
I was ready to elbow a mom, dad and two kids to get on the plane (not really). I was hyper focused to get to the funeral.
I got on the plane, and all my favorite seats were taken of course. I saw one with the middle and aisle open. A man was sitting in the window seat, and I politely asked if the aisle one  was taken. Thankfully it wasn't, and I sat down.
As I settled in and put my seatbelt on, the gentleman said, "Maybe we should put something in the middle seat so no one sits next to us."
Without batting an eye, I said, "Oh don't worry, no one usually likes to sit next to me." He may have laughed, I don't remember, but I wasn't totally kidding. Before flying on Southwest, I was fairly loyal to American Airlines, and sometimes I'd fly Delta. And other than the flight I took to Austin one year, no one EVER talked to me. I had always thought it was because I was a Muslim in a headscarf, but now I'm thinking it was because I was an obese passenger.
Who knows, but I love the friendly nature of passengers on Southwest Airlines. I know they've had some bad press, but I've had nothing but good experiences on their flights. As usual, I digress.
This broke the ice with my seatmate. We talked about where we were from and started talking about food and coffee — two of my favorite things. I ended up telling him about my life with pizza and about my favorite pizza place in Chicago. (Spoiler alert: It's not deep dish.) I may have fallen asleep during the flight, but I mustered up the courage to give him my business card, and told him if he was ever in Chicago to give me a call.
He gave me his card as well, and we parted ways. The experience left me feeling really good since white men usually intimidate me (more on that later). And, I needed the boost because the funeral ended up being a very sad, but transformative experience for me.
His card fell into a pile on my desk, and I never gave it a second thought. Two months later I got an email from Chris with the subject "pizza research," and it took a minute for me to remember who he was. But, I was so glad to hear from him. It just so happened that I was going to be in his town in the next couple of weeks and told him we should meet for coffee.
The date and time was set. It was one of my favorite coffee places in that city, and I needed to impress my new friend. I knew nothing about Chris other than the information on his card. I actually sent him a text message and told him that I had forgotten what he looked like. I explained that I was the one with the scarf on her head.
When I got to the coffee place, I made sure to keep my head down, I didn't want to seem too eager, and I didn't want to mistake someone else for him and have an awkward moment. So I pulled out my Kindle and tried to read, but I just kept reading the same page over and over again.
Then I felt someone stand in front of me, and it was Chris! He just stood there, not sure whether to wait until I summoned him or to just charge forward. I had honestly forgotten what he looked like. I stood up and shook his hand. He had a firm handshake.
Before he sat down, he said, "This is weird isn't it?". And I confessed that it was a little strange. I have met strangers before, but never like this. And I think we both breathed a small sigh of relief. I showed him how to order coffee from this place, and we sat down to drink and chat.
I started by telling him how stressed out I was post election, then I asked him whether he was okay. Was his job appointed or was he a civil servant? He said he was fine. And at these two things, he seemed be a little uncomfortable, and may have even shifted in his seat, but I was so lost in the thoughts in my head that I didn't think much of it.
We continued chatting, and at one point I told him I reside very far to the left compared to my friends and family. He then leaned in and almost in a whisper said that he was from the other side.
Everything paused for a moment. Then it all fell into place.
He was from the right, and he probably voted for Trump! What do I do? This changed the dynamic of the whole relationship. I was accidentally brilliant in my decision to meet him.
After the elections, I was tired of all the anxiety, and the echo chamber was deafening. People in my circles were crying about the end of the world, and I almost believed them. I wanted to talk to the other side, and I wanted to get out of my silos. I had a couple of Muslim friends who were Republican. My own brother was a Republican for a while, but here was someone so outside of my circle, that it could have only been fate that brought us together.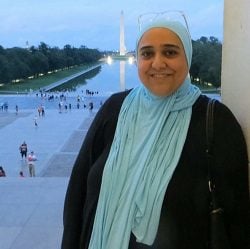 I explained all of this to Chris, and he said, "I don't know what that means, but I like what you're saying." I explained to him that we live in a world of black and white (not race, but issues). People are either a ten or a one. No one hangs out in the fives. (Chris claims he came up with the idea of being in the fives, but we're still disputing.)  
Our time was coming to an end, and our coffee was getting cold. I had to head to a work function, and he had to head home. So we shared an uber to my destination, where his was a short walk away. We continued to talk. Just before we parted, I told him that I was about to participate in a controversial program, and that I might be risking my reputation and good standing with my community.
When I explained to him the nature of the program, he said that I was in the fives (maybe he did come up with it) and to keep it up. We said goodbye with a firm, but familiar handshake and went our separate ways. I must have had a big smile on my face, because I knew that this was going to be something special.
This is part one of a two-part story. Stay tuned to read more about this developing friendship next month!
Eman H. Aly works in digital communications and academic research. In her spare time she works in issues surrounding Muslim-Jewish relations in Chicago. Her digital home is at Eman.Land. She writes her Altmuslim column, Emansplaining, every third week of the month.