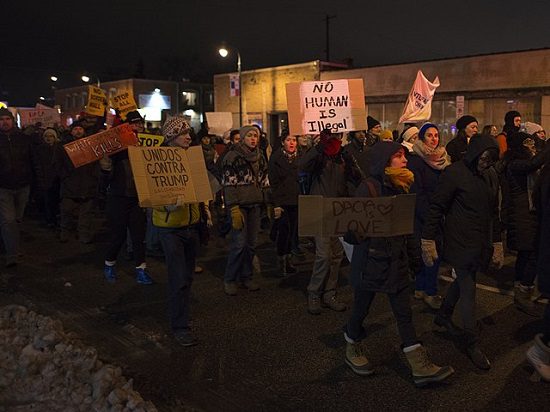 Nearly 800,000 DREAMers — young adults who were brought to America as children — received critical protections and work authorization under the 2012 Deferred Action for Childhood Arrivals (DACA) program. DACA was instituted by Executive Order by President Obama to allow DREAMers to come forward, go through rigorous background check, and pay a fee for a work permit in order to be able to live, work, and to continue to contribute to our nation without fear of deportation.
It would be unconscionable to now close the doors to young adults who can remember no other home and who are currently working, going to school, and fully invested in building our communities and our economy.
DACA has been operational for five years and it is a success. It is popular with the public and enjoys the support of employers, educators, community leaders and elected officials from both political parties.
But despite this widespread support, DACA has been vulnerable to attack as it can be rescinded by the President, which then candidate Trump promised to do as soon as he became President. On September 5, President Trump followed through on this campaign promise and formally announced that he was ending DACA.
Ending DACA is short-sighted and inhumane. It is going to directly harm nearly 1 million young people who are a dynamic part of their communities and who contribute tremendously to the strength and vitality of our nation.
Rescinding DACA is also disastrous to our economy. Removing 800,000 people from the workforce nationwide would cost the country $433.4 billion in GDP loss over a decade. It would cost employers $3.4 billion in unnecessary turnover costs. Contributions to Medicare and Social Security would be cut by $24.6 billion over a decade.
U.S. Senators Lindsey Graham (R-S.C.) and Dick Durbin (D-Ill.) took a step in the right direction when they introduced the bipartisan DREAM Act of 2017. This urgently needed legislation solution would provide legal status to nearly 1.8 million DREAMers who have grown up in this country and know no other home.
They include DREAMers like MomsRising member Priscilla, who raised her younger siblings, studied hard, and now is a dedicated teacher in Texas. Destroying Priscilla's dreams by denying her any path to legal status and ability to work would not only crush her and her siblings who rely on her, but also adversely impact her students and her entire school community.
Protecting family unity, ensuring that our public policies address the concerns of immigrant women and children, and ending human rights abuses that are occurring in the name of immigration law enforcement are in our national interest. We urgently need a constructive national dialog on reforming our country's immigration policies, so they will finally reflect our values as a nation and allow all families to contribute to our culture and economy.
That begins with passing the DREAM Act — a smart, humane immigration policy that will strengthen our communities and our country. The incredible young people known as DREAMers are contributing to our communities and our economy. Our state and our nation will benefit tremendously if the DREAM Act becomes law and we move to permanently protect DREAMers, to give them hope and the opportunity to continue build lives in the country they have grown up in.
Khadija Gurnah is a Campaign Director with MomsRising, an on-the-ground and online grassroots organization of more than a million people. She lives in Wallingford, Connecticut. For more information on how to directly engage your Senators on DACA, visit: http://action.momsrising.org/survey/immigration-storybook-dropoff/