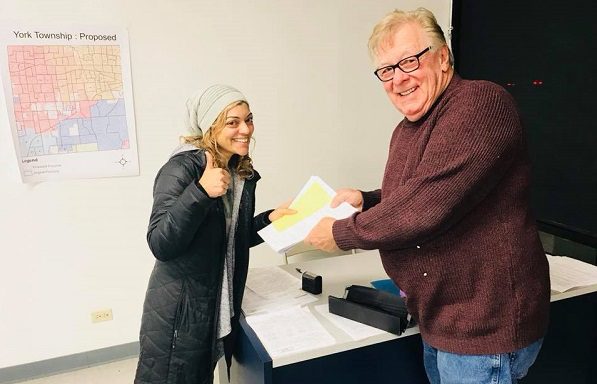 If there is a silver lining to the Trump era, it is the call to arms of Americans from all walks of life to stand up and run for office, at all levels of government. Zahra Suratwala is one of the many women who have answered that call. Suratwala, who contributed to the #30Days30Writers Altmuslim Ramadan series, announced her candidacy for DuPage County Board (District 1) in Illinois, and has already gone viral on the Facebook group that became popular during the 2016 presidential campaign, Pantsuit Nation. Below, she answers some interview questions about her candidacy:
Why are you running?
ZS: After the election, I felt devastated – even more so when I saw that, as the weeks went by, the president was continuing to be a divisive force in our country. I attended marches and educated myself about the ways in which the political system fails its citizens, and I started to see myself as an activist. The idea to run began as just a fleeting thought, but the more I saw how desperately people around the country were fighting for unity, the more that idea grew.
I definitively knew I wanted to run when I casually mentioned to my mother, a physician who was one of the only women in her medical school in India over 50 years ago, "I think I would make a great candidate. I could run." And my mother answered, "You would be incredible. And you absolutely should run." Knowing how much I value my mother's earned wisdom, and considering what the example of my running might do for my own daughter's ability to dream big, I decided to go for it.
Why did you choose to run for County Board, specifically?
Because I didn't see enough diverse representation at any level of government, and of the 18 people on the County Board, there are no minorities and only 4 women! The County Board makes more decisions that directly affect our lives. But as a woman, a mother, and a Muslim, I did not feel sufficiently represented.
What went through your mind, as a Muslim woman, before announcing your candidacy?
As a Muslim woman, I was certainly concerned that my family would face some prejudice when I announced my candidacy. Today's campaigns are so public and social media reaches so many, that I knew some negative comments would come my way. Such comments are not a deterrent, but I wouldn't want them to affect my children in a negative way.
Has your mosque been supportive?
My mosque community has been extremely supportive — they are proud of the fact that I am blazing a trail. Of course, I am thrilled to see that since the 2016 election, more Muslim women are running! People have been incredibly generous with their kindness and their encouragement and their support.  So many people, in my mosque and outside, are willing to give me their time as I start my campaign.
They want to be a part of something tangible, something that is concretely, measurably, creating change. I am surprised that as much as I am thanking people for their support, they are thanking me back. For the opportunity to work towards something together. This gives me the strength to keep going, to keep trying.
How does your Muslim identity inform your campaign?
ZS: From my announcement to my website to my social media posts, I am proudly declaring that I am a Muslim woman running for office. I want to bring more diversity to our leadership, and my identity as a Muslim is integral to that.
Are you concerned about Islamophobia, from either residents in your district, or from competing candidates?
I am of course aware of Islamophobia, and I considered it before deciding to run, but I am not actively concerned about it. I don't want to limit myself or live in a constrained manner because of Islamophobia. I would rather act in positive ways so that we see less of it in the years to come. As Michelle Obama wisely said, "Whey they go low, we go high"- I don't intend to hide or get upset. I have kindness and empathy at my disposal, and using them, I intend to effect positive change instead.
Which aspect of your identity is most relevant to your campaign?
The aspect of my identity that is most relevant to my campaign is my motherhood. I am setting an example for my children – and other children too, I hope! – that I felt strongly about something, and so I did something about it. This is my country and if I want to see it become better, I have it in my power to tangibly do so. I want them to watch me and learn to use their voice, as well.
Why do you think it is important for women to run for office?
I want to see women running for office whenever they feel strongly enough to do so. Because they understand that it's their right. I want to see a culture of running for office, where women feel entitled to throw their hat in the ring. Where women are represented in this country, where they are leaders, where young girls don't think twice about speaking up and owning the place.
It is important for women to run for office because we are all part of a snowball effect that will change the face of leadership by the time our kids take the reins. Women run, which inspires other women to run, etc. I have faith that soon enough, the landscape will be very different in terms of our leadership. And in the meantime, we have already succeeded just by deciding to run.
For more information about Zahra's campaign, visit her campaign website at ZahraSuratwala.com and follow her on Facebook at ZahraForDuPageCounty. This interview was conducted by Altmuslimah and originally appeared on the AM site.