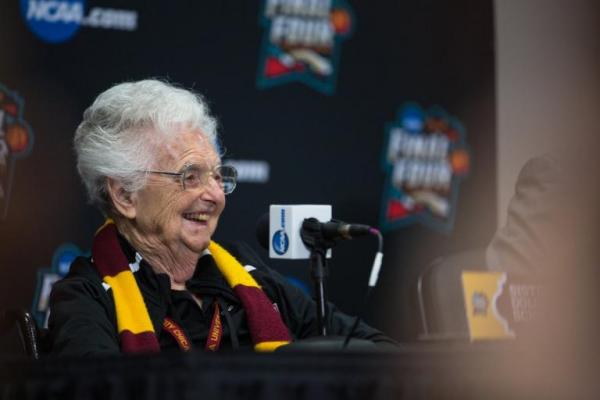 In America 2018, a 98-year-old basketball-loving nun is in the news. After a handful of miraculous victories and entry into the men's NCAA Final Four, Loyola Chicago basketball has catapulted Sister Jean Dolores-Schmidt, chaplain of the basketball team, into the national conversation. Even record-selling bobblehead dolls have been sculpted in her likeness.
Unlike most nonagenarian nuns, Sister Jean chose not to retreat into a life of solace and prayer. A fixture on the sidelines of Loyola games for years, she is a spiritual muse with a strong interest in coaching basketball. As team chaplain, her pre-game  and pleas to God for "a big 'W'" are followed by scouting reports on opposing players to watch out for.
For Loyola guard Donte Ingram, this side of Sister Jean was unexpected. "The first game (as a freshman), it caught me off guard. I thought she was just going to pray. She prayed, but then she starts saying, 'You've got to box out and watch out for 23.'
It is of course difficult to tell the story of Loyola's endearing nun without mentioning the Jesuit university and the unlikely success of its men's basketball team. Or, for me, my own time as a Muslim student at a Jesuit university.
I attended Loyola University Chicago from 2003 to 2007. Though America and Muslims across the country were still reeling from 9/11, I remained unaffected by its consequences in my early days on campus. As a myopic pre-med student, my world had little capacity for discussions about Islamophobia and Muslim identity in America. Organic chemistry precluded any time for a meaningful reckoning.
But Loyola University saw what some us students could not. The Jesuit university generously bankrolled its Muslim Students' Association and fostered mutual respect and understanding of other faith groups. Space and support were provided for Muslim students to pray, congregate, invite speakers, participate in interfaith dialogue and enrich the surrounding university community with their presence. In doing this, Loyola encouraged us to leave our visible and unapologetically Muslim footprint on the campus.
These formative years would prepare us for the world outside Loyola's walls. Here, as Khaled Beydoun 
 in the Washington Post
, "The burden of collateral and collective guilt has become a central component of the modern Muslim American experience…as a consequence of private and popular Islamophobia." But, by helping students preserve and celebrate their Muslim identity in the post-9/11 crucible, Loyola ensured that an important part of us would remain intact.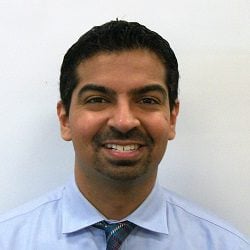 Currently, the nation has a courtside seat to a basketball team that similarly personifies all that is good at the Chicago school. As David Haugh of the Chicago Tribune noted, "a mid-major model that blends talent and character with the proper balance between athletics and academics."
With coach Porter Moser at the helm, Loyola's team-centric approach finds it playing March basketball for the first time since 1985. And, after defeating higher ranked teams in recent days with an apparent scintilla of divine intervention, Sister Jean's Ramblers have become America's beloved underdog. Loyola is now the little Jesuit school that could.
The underdog matters to us for many reasons. There is an emotional high when the unexpected happens, and Goliath comes tumbling down. Most importantly, we hope to see the underdog succeed in order to renew our faith in a just world. It once again stirs the hope that money and clout are not always destined to triumph.
But the underdog narrative is also larger than basketball. It resonates at a moment when galvanized high school students challenge the intimidating pro-gun lobby, as immigrants seek to preserve their dreams and as Democratic candidates look for votes in red states.
As Sister Jean and her undaunted Ramblers restore our collective belief in the improbable, we are reminded of St. Ignatius of Loyola's words that continue animate the university, its students and alumni: Go forth and set the world on fire."
Jalal Baig is a physician and writer from Chicago. Currently, he is a hematology/oncology fellow at the University of Illinois at Chicago. Prior to this, he completed an internal medicine residency at Rutgers Robert Wood Johnson Medical School. His writing has appeared in the Washington Post, The Guardian, Salon and Vox.