Women from time immemorial have been the foundation and sustainers of life and society, giving birth, raising the next generation, preparing the food that keeps us all alive and often risking everything for the welfare of family and society — underappreciated yet vital actions.
Today, when we celebrate women's contributions, our attention first goes to those women who have ventured into arenas that men have traditionally occupied, often neglecting those who are still contributing to the life-giving and often grueling but unnoticed task of supporting life, family and society.
And, as a Muslim woman, I am also painfully aware that the contributions we make to society will be most likely to be recognized if they fit a particular paradigm, generally that which the West deems worthy of celebrating.
While acknowledging that much more needs to be done, many of these accomplishments deserve to be universally celebrated, such as the fact that when given educational opportunities, Muslim women are nearly closing the gender gap in higher education. According to a 2016 Pew poll, among the youngest generations of adult Muslims globally the gender gap is closing in higher education with almost equal percentages – 11 percent of men and 9 percent of women – having college degrees.
Muslim women are also entering politics, even at the highest level. There have been twelve Muslim female heads of state, in some of the largest Muslim-majority countries such as Turkey, Indonesia, Pakistan and Bangladesh, and in smaller nations such as Kosovo, Senegal, Singapore and Mauritius. A growing number of Muslim women are serving in Western governments, and this year an unprecedented number of Muslim women are running for office, including for Congress, in the United States.
And even in Saudi Arabia, long known for its restrictions on women, some oppressive policies, such as the prohibition against women drivers, have been rolled back.
Here in the United States, the hijab has come to be seen as a symbol of Muslim identity and has been celebrated recently because of the example of notable Muslim women such as Ibtihaj Muhammad, the first American Olympian to wear hijab.
Consumerism – for better or worse – has put its stamp of approval on Muslim women who wear hijab, including the first hijabi Barbi (fashioned after Ibtihaj Muhammad) and spotlighting on Muslim women fashionistas, including the recent hijab-friendly line by Macy's and the inclusion of hijabis in numerous clothing, cosmetics, and other lines. And just recently Tahera Rahman made history as the first hijabi news anchor covering the Quad Cities region in Illinois and Iowa.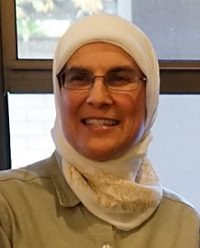 Muslim women who choose not to wear hijab also have long contributed at various and diverse levels, from academics such as renowned legal scholars such as Farhana Khera and Azizah al-Hibri, to comedians such as Negin Farsad, and even astronauts such as Anousheh Ansari Raissyan.
Yet, while we celebrate some Muslim women and their accomplishments, it pains me that we forget others who may not fit the Western paradigm for celebrity but who have achieved much against all odds. These include women in Yemen and Syria under siege from years of brutal warfare.
They include refugee women fleeing war and violence, carrying a child through days and weeks of unbearable conditions, and women in never-ending poverty working tirelessly in the most difficult of conditions to make sure there is food on the table, no matter how meager. And, they include women standing against oppression, including those fighting for causes not championed in the West.
These women are not looking for recognition or even mention during Women's History Month; they are only trying to do what women have always done: preserve life, family and society. We need to keep all such women in our hearts and minds as we celebrate women's accomplishments, in this month and through the year.
To all you unsung sheroes, I salute you.
Ameena Jandali is the Content Director for Islamic Networks Group (ING), a non-profit organization with affiliates and partners around the country that are pursuing peace and countering all forms of bigotry through education and interfaith engagement while working within the framework of the First Amendment's protection of religious freedom and pluralism. Ameena co-founded ING twenty-five years ago has delivered hundreds of presentations in schools, colleges, universities, churches, and other venues on Islam and related subjects. Ameena received her M.A. in Near Eastern Studies from the University of California, Berkeley, and B.A. in History from the University of Illinois.