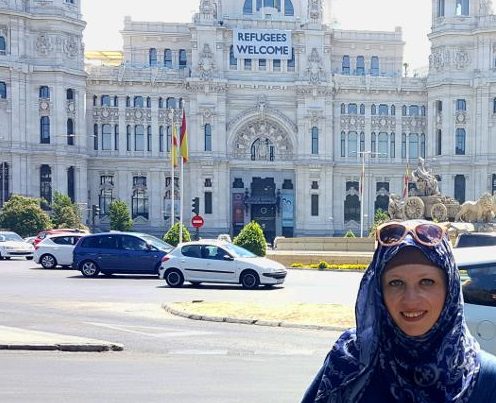 This is Day Two of the 2018 #30Days30Writers Ramadan series.
Identity.
Assalamu Alaikum. Peace be upon you. ¡La paz esté con vosotros!
As Ramadan begins, I am sitting on a panel, invited as "the Muslim" talking about diversity. Alhamdulillah, I appreciate the opportunities to share Islam, which as a convert, I have been presented with frequently in the last 20 or so years. In talking about identity, I once told one of my social work professors, "I don't fit in anywhere" to which she replied, "Jenny, you fit in everywhere." I'm ok with how when people (Muslim and non-Muslim) first meet me they try to figure out "who I am" and "where I am from," questions that I didn't really get asked before I wore the hijab.
Having taken a DNA test recently and discovering that I am descended from the Iberian Peninsula (Spain) mostly, something I had entirely expected — it cemented the notion in me that I most likely was descended from Muslims, Jews and Christians who lived in Al-Andalus. Part of me feels deeply that my ancestors made duas (prayers) that are being answered in my life today, but I am also reminded that we will be judged on our own beliefs and actions despite who our forefathers were.
It is because of this, and so much more, that I am less concerned about "who I am" and "where I come from" and more concerned with "who I strive to be" and "where I want to go." Ramadan reminds me to refocus on those goals with full knowledge that the results are with Allah. It reminds me of the struggles of those that came before me and those that are going through them now.
I do identify as Latina and American, which are identities that I appreciate and inherited. However, the identity that I strive to hold onto, to maintain, and to die on, is my Islamic identity. Islam is not something I was privileged to be raised on, nor is it something I am guaranteed to die on.
Introspection.
Reflection and silence, both of which I believe are part of the everyday experience of a Muslim, are even more important during Ramadan. After all, I remind myself first and foremost, the first words of revelation of Quran came to our dear Prophet (SAWS) while he was in seclusion away from people and in contemplation of his Lord in the month of Ramadan. Fasting from speaking is a privilege that many of us can only engage in during moments of our day.
I usually feel that remaining silent seems like ignoring the injustices in our communities and in the world, but I do crave a silence that will allow me to hear those things that the noise obscures – a silence that will allow me to feel the presence of the Divine. In Ramadan, in lieu of complete silence, I look forward to the extra prayers of
tarawih
(night time prayers), where I spend time listening to the Best of Words.
I don't struggle with being reflective when I have privacy, but I do struggle with silence while surrounded by others. If in the company of others, I have a desire to engage in the intimate act of connecting. Engaging with others is one way that I better understand myself, and the beauty of other's existence inspires me and increases my gratitude to Allah (SWT). In Ramadan, in lieu of complete silence, I look forward to intentional connections, seeking that sister in the room that no one talks to, welcoming the visitor, and connecting with the newcomer in our community.
I know what it feels like to be the weird one in the room.
If you arrive at a mosque, if you are sitting at an iftar (the fast-breaking meal), I want you to know that you are welcome in that space, whoever you are and wherever you may come from. We may eat iftar quietly together, but more likely than not, we will engage in conversation. And if I am fortunate enough, I will be blessed by gaining a new friend by the end of the evening, one of the benefits and rewards I look forward to every Ramadan.
So, although I started off my Ramadan speaking about my identity, I will most likely also spend my iftars throughout the month speaking about how despite our identities, we are all welcome at the mosque, and how the most important identity that we own is that we are created by Allah to be the best of creation.
I am but on a journey of self-discovery, praying that it will lead me to a destination of Eternal Love and Truth. If we meet on the way, I believe that Allah (SWT) put you on my path, and I am grateful for you! I may know where I come from and where I want to go, but it would be fantastic to have great company along the way!
Ramadan Mubarak! ¡Feliz Ramadan!