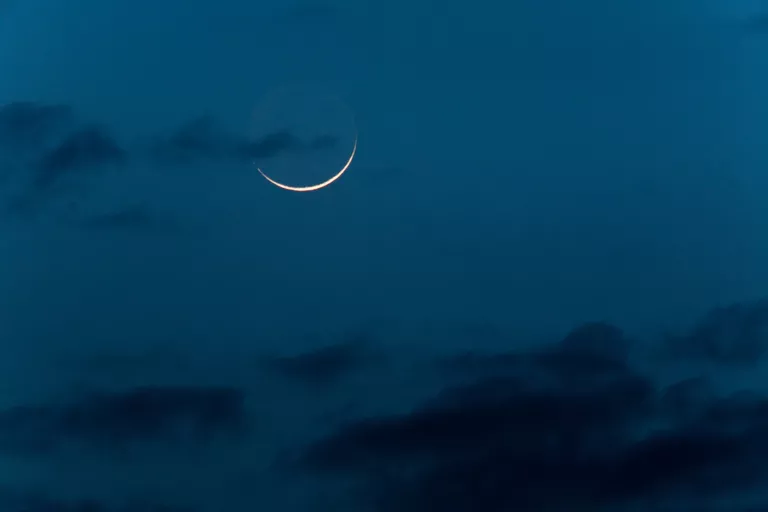 Once again, we've watched news outlets to dust off their Hajj and Eid coverage, filled with shots of outdoor markets and prayers in far off places. Muslims have mostly recovered from the heady swirl of events leading up to Eid ul-Adha and await the return of the freshly minted hujjaj (those who have performed the Hajj pilgrimage).
The first nine days of Dhul-Hijja echo Ramadan for me, in that despite the rush to prepare for Eid, they are endowed with a grace that's hard to access most of the year. But, before we have a chance to send off the departing hujjaj or whip up Eid treats each year, the old debate resumes over just when the month begins.
Deciding when we begin to count the days leading up to the most significant dates on the Islamic calendar has involved complex calculations, disputes over just what "visible" means, and prompted Muslims to flee cities to seek a place where light pollution doesn't obscure their ability to spot the thin, silvery crescent of the waxing moon.
The sometimes-heated discussions about when a new month begins are rarely about clouds or angles or what a telescope can show you. I used to be frustrated by the disputes. But a thing one dislikes may hold some good. There are greater lessons to learned from the annual moon sightings versus scientific calculations debate.
Debates over Right Way vs. Wrong Way
Islam is indeed a highly legalized faith. Depending on how you practice it, there can be right and wrong ways to enter the bathroom or put on a new item of clothing. Even for those of us who are more relaxed in our practice, we have ways of washing up for prayer or starting a fast that are clear rituals. There are centuries of opinion and commentary that can support almost any position one might adopt, but those debates and texts often center around the idea that there is at least one correct way to do a thing and choosing the correct way matters.
With such diversity of opinion and practice, only the more austere approaches threaten punishment for differences of opinion or error based on ignorance. Individuals or communities may dislike or be intolerant of varying practices, but coercing religious uniformity is the hallmark of those who lack Islamic education.
We exhort one another to the ways we think best. We may even struggle to have the humility to accept the notion that we may be wrong. But the more we learn, we come to recognize that right answers might be a bit more slippery than they are in arithmetic. And, that's scary.
I used to scoff at these heated discussions over when Ramadan started or on what dates the Eid holidays fell. What does it matter when we begin worship, so long as it's done with sincerity and purity of intention?
But consider this: Those who live in areas where Islamic holidays don't receive official recognition get two chances to adjust work and school schedules around prayer services and festivities. The opportunity to make this choice of when to celebrate is one of the benefits of living in areas where Islamic holidays get some social recognition but relatively little government recognition. This choice is a communal one, a familial one, and a personal one in places where Muslims are a minority. And that choice is more important than I first realized. Parenting a disabled child taught me that.
What We Learn from Our Choices
I've made unusual decisions of my own, and if I thought various aunties were nosy, parenting a disabled child schooled me that everybody is in my business. I have pediatric specialists wanting to see my son's school work. I have speech therapists wanting to know what we snack on. Most of this scrutiny is explained in advance and is only uncomfortable. But, one question that I've been asked repeatedly continues to bewilder me.
I've been asked why I let my son make so many choices for himself.
To be clear, he doesn't get his way all or even most of the time. I remain the bedtime dictator, and in this house, we give peas (and many other things) a chance. But, he helps plan our meals, his own wardrobe, and he selected the voice for his communication device. His doctors and therapists, however, are used to adults who have determined that a child who does not speak is a child without opinions or the ability to make decisions.
They're used to children being presented with one way to do things, with consequences for behaving differently. I knew that I needed to do things differently with my son, because both he and I must confront difficult issues and be asked to make a choice.
I ask my son to choose a pair of socks because I know that he will need to decide who to live with. I need him to know what it means to make a choice and deal with the effects, to know to speak up if there's a choice he objects to. While major life choices are a lot more complicated than deciding what to wear, expressing one's values can begin with deciding that socks with dinosaurs are important to one's personal happiness.
As a worldwide community, we must make decisions regarding our co-religionists in areas most of us will never see. Many of the places where Muslims live are home to political strife or severe weather events. Globally, Muslims are involved on both sides of several wars and are fleeing drought, earthquakes, and floods.
Muslims suffer from oppressive policies in several countries. Some aspects of the response are simple: We give, and generously, to provide immediate aid. We can petition governments to admit refugees and assist them financially.
But other aspects can be much more complex. Should our opposition to the war in Yemen include boycotting the Hajj? Does our responsibility to provide aid extend to measures to prevent further harm? Should we encourage Muslims facing political repression to flee, even if that destabilizes long-standing communities?
Our legal scholars can and do provide guidance on these issues, but they do their best work when they are in dialogue with the communities they serve. We are united in our ultimate goal but can get caught up in the debate over the details. These decisions don't involve worship directly, but they shape our sense of Islamic morality and show just who we consider to be members of our community.
The ongoing effort to live a God-centered life cannot be one in which we avoid examining our decisions. We can go along with popular practices, but we cannot be accountable without taking ourselves to account. Whether we choose right or wrong, our choices begin with a desire to best reflect the Divine Prerogative.
We will meet those with different approaches and different goals, and we must choose what to draw from that, and how to handle the consequences. And, if we get a chance to exercise our decision-making capabilities twice a year on a relatively minor matter, then we have even more reason to be joyfully grateful.