Jeffrey Kotyk of the Flower Ornament Depository 華嚴藏 blog has a fascinating piece up today about the recent decline in web searches for Buddhism. There he discusses statistical data showing that digital mentions of Buddhism is on the decline, and in a dramatic way: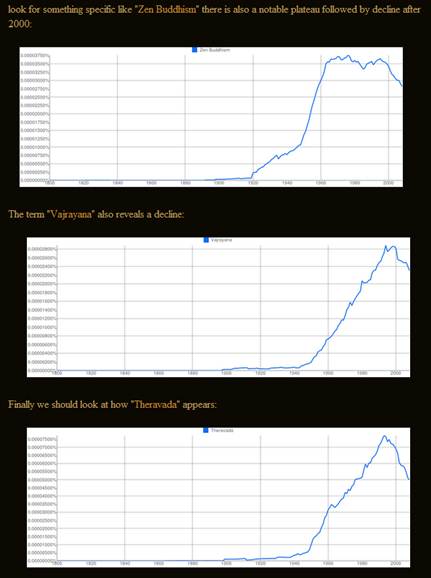 Perhaps unsurprisingly, Hinduism has faced a similar fate in recent years.

But what about Abrahamic religions? Well, here's a look:



These are the search results, but what do they tell us about what people are actually doing on the ground? Perhaps they are a predictor of things to come?
It's complex, of course. But have a look at Jeffrey's great discussion of the topic and let us know what you think – is Buddhism on its way out?
(Along with Hinduism and Judaism)
Is the future all about Christianity and Islam?
(
this graph
suggests that it's not so clear)
And Atheism?
Have a look
. (It's curious that atheism took such a dive during the publishing career of Freidrich Neitzsche and following Karl Marx and Charles Darwin.)