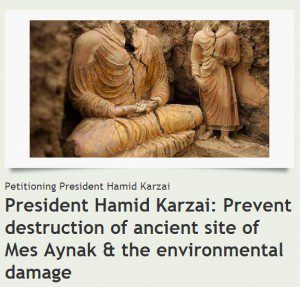 In just over two months, a Chinese-owned mining company is scheduled to begin work in NE Afghanistan. If they go forward, they could create the world's second largest copper mine. But they would also destroy an unknown number of ancient Buddhist (and other, earlier) artifacts.
The site, in the rugged and arid mountains of Afghanistan, was once a hot spot on the Silk Route, home of thriving communities of traders and monks. The site was only rediscovered two years ago, when the Chinese mining company began its exploratory digging. Since the discovery here was deemed so monumental (talk of getting it registered as a UNESCO protected site has circulated, but has so far failed), the Afghan government was pressured into setting a two-year moratorium on further mining.
That two years is nearly up.
According to the petition site:
In November 2007 the Afghan government granted a 30-year lease for the Mes Aynak copper mine to the China Metallurgical Group (MCC). The hope is that this mine could become a significant source of revenue for a country that is emerging from three decades of conflict and trying to stand on its own feet. However, the same site also holds a buried Buddhist city with multiple temples, fortresses and commercial and residential areas. Below that are older historic remains going back to 3000 B.C. and possibly including Bronze Age artifacts. Experts call this one of the premier archaeological treasures in Asia. When mining begins in 2013, this unique heritage site will be destroyed forever.
Brent Huffman, a Northwestern University professor, has filmed the efforts of an international archaeology team trying to save antiquities at the site for the last 22 months. According to Huffman, "The site is absolutely awe inspiring.You can feel history there. As archaeologists scramble to save what they can before the 2014 deadline, it's become clear to me that a cultural wonder in Asia will be lost to a future focused on resources that ultimately benefit residents of other countries over Afghan citizens." Huffman's film, The Buddhas of Aynak, has a facebook page here.
Please, take the two seconds it takes to click this link and sign it (and pass it on).
Update: (11/9/12) the signature campaign is going great! (Keep it up!) And a new kickstarter campaign has been launched to produce a film about the area – before it's too late.