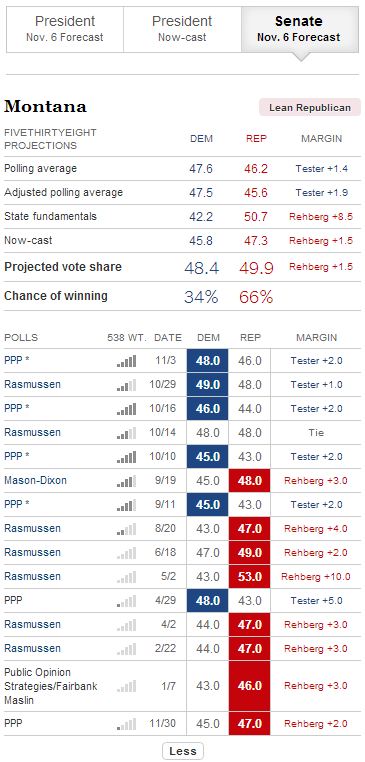 I almost minored in Political Science in my university days. I was president of my Philosophy Society for a while, and my local Golden Key International Honour Society. But other than that, I am, like most of you, a novice in the strange world of politics.
Yet, again like many of you, I watched this year's election coverage with a certain level of neurosis and/or addiction. Early on, thankfully, I discovered Nate Silver's prophetic blog fivethirtyeight.blogs.nytimes.com. Soon I was checking it twice a day. Simply put, it's brilliant. If you haven't discovered it yet, I'm sorry. It's a bit late now.
But you can still buy his book.
The blog focused on the Presidential election, the title coming from the Electoral College's 538 members. But it did also look at state-by-state Senate elections. His Presidential forecast is uncanny. Scary even. So scary that a website called http://isnatesilverawitch.com/ has been devoted to understanding his (supernatural?) powers.
The wonderful thing is that Nate didn't hold much back. He openly discussed his feelings about various polls, gave greater "weight" to the ones that had better methodologies, and overall demystified much of the electoral process. In fact, for the last 2 weeks at least I have been utterly mystified that most of the media kept talking about "Romney momentum" and "too close to call" when Nate Silver had clearly shown that Romney's "momentum" ended about a week after it started (beginning just after the first debate, Oct 5, and ending Oct 12), and that after Oct 20, Romney never had a better than 1 in 3 chance of winning. By November 5, Romneys chances were less than 1 in 10.
Apparently this caused a lot of ruckus amongst the pundits.
With my current cold and the fact that I'm in England, I couldn't stay up to see the late night state-by-state numbers roll in as I might have back in Montana. But, with Nate's careful number-crunching, I went to sleep confident that we would have 4 more years of Obama.
What I wasn't so sure about was my home state's Senate race, between incumbent Democrat Jon Tester and Republican Denny Rehberg (a long-time Representative). My parents, both relatively newly retired, have been stumping for Tester for weeks now, going door-to-door, cooking meals, and making phone calls. And I made sure to get an absentee ballot in to support him, knowing well that it wouldn't mean much in the Presidential election.
Based on my parents' data, and the polls (in the image), Rehberg had been ahead early on, but Tester was coming back and had, in the last week or so, overtaken the challenger in 4 out of 5 polls (with the 5th being a tie). In fact, Rehberg hadn't won a poll since the Mason-Dixon poll on September 19. And Mason-Dixon, if you serf around Nate Silver's site, seems to have a habit of giving strong advantages to Republicans (their last poll in Florida gave Romney a 6 point advantage, for instance).
So why hadn't Nate suggested that Tester was more likely to win?
This is the Nate Silver blog post I want to see. I'm not sure if he was off in any of the other Senate races. But I would love a frank discussion of why he was wrong here.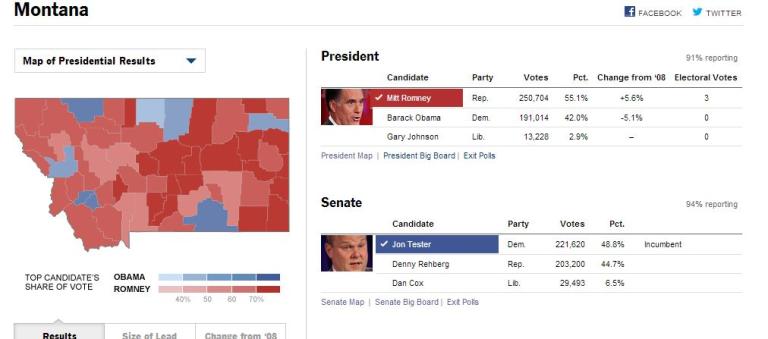 As you can see, Romney won handily, as Nate predicted. And Montana, if you look at the results, might be an understandably strange place. The rural-urban divide exists, sort of. Some of Obama's strongest counties were Big Horn and Deer Lodge counties, each with under 5000 votes and, obviously, no great number of college students. On the other side we do have counties called Petroleum County and Carbon County (so much for a the liberal 'green' vote). Gallatin County, home of one of our two major universities, went to Romney, 51% to 46%. Obama only won two "urban" areas: ultra-hippy-liberal (my college town) Missoula and the Irish-Catholic-drunk-mining town (the town that most people in Helena, even the drunk Irish Catholics, refer to as "Butt") Butte (Silver Bow County).
So why would Montanans, who voted overwhelmingly for Romney, support a Democrat for Senate? Patricia Cohen of the NY Times puts it fairly well:
When he won a Senate seat in 2006, Jon Tester, a Democrat and organic farmer, squeaked past his Republican competitor in this mostly Republican state in one of the closest races in the country.

He learned Wednesday morning that he had done it again, defeating Denny Rehberg, a Republican who currently holds the state's only House seat.

Mr. Tester is a distinctly Montana brand of Democrat, and as such is often at odds with the mainstream of the national party. He is against same-sex marriage — though he stops short of calling for a constitutional ban — and favors strengthening gun rights.

Mr. Rehberg, who aligned himself with Tea Party values after his sixth re-election, in 2010, highlighted aisle-crossing moments this time. Thus, in a twist, the Montana Republican Party recently ran televised ads touting Mr. Rehberg's votes against the budget plan proposed by Representative Paul D. Ryan, the Republican vice-presidential nominee, presumably to attract independent — and even Democratic — voters.
Simply put: Montana is weird. An anti-Gay marriage Democrat against an anti-Paul Ryan Republican. And that goes for all of our elected officials. Our last Governor (a Democrat) had a Republican running mate. That same Governor, if I remember correctly, admitted to enjoying a beer or two, while driving, around his farm – yet still finally, in 2005, made drinking while driving illegal in Montana.
Yes, you may remember Montana as the state that "didn't have a speed limit" (the limit was in fact "reasonable and prudent," whatever that means) and at the same time it was legal to have a beer while driving. Of course to drive at an unreasonable speed was still illegal, as was driving while drunk, but you can see where people might see Montana (even recently) as the "Wild West."
So perhaps all of this weirdness made Nate's head spin a bit too much. But our history of electing eccentric Democrats should have tipped him off – that and the polling…
But, as I said, I'm a novice here and Nate Silver is the undisputed heavyweight. I'm happy I discovered him well before the election and slept soundly as a result. But I'm very curious about where and why he went wrong, specifically in Montana. It would seem to be somewhere in his formula for the "State Fundamentals" (which have Rehberg up 8.5%) but just where, and how, is a mystery.