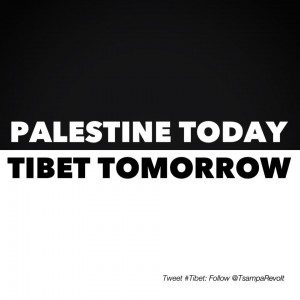 This was the image posted today by the Tsampa Revolution facebook group. That group states its goals as being, in part:
The goal and aims of this page is to provide news, information and updates about the ongoing situation in Tibet. Along with being a source of information, we want this space to provide Tibetan Freedom activists with online tools and tactics to amplify the message of Tibetans inside Tibet.
Overshadowed in the UK by the Leveson Report and in the US by the 'fiscal cliff', the UN yesterday voted overwhelmingly to recognize Palestine as a non-member observer state, which means it is recognized as sovereign state, and is free to submit a petition to join as a full member at its discretion. Switzerland was a permanent observer state from 1948 to 2002, until becoming a full member on September 10, 2002. Currently, the only other non-member observer state is the Holy See.
Are we living in an age of increasing national division? The continuing fall of empires?
Scotland can vote on a referendum for independence as soon as next year. Catalunya, the home of Barcelona and an economic power-house of Spain, is stepping toward independence, though in their case there is no legal route to separation. The UK and Spain are, after all, old empires, kingdoms that united previously separate nations under a single flag. Until now it has been often simply accepted that the value of unity has been far greater than that of national independence.
Those in the US can laugh about the numerous petitions to the White House for individual states to secede from the union after President Obama's re-election: Texas, for example. Another petition quickly followed, from the liberal hot-bed of Austin, asking to secede from Texas. I'm sure there are conservative neighborhoods in Austin that would like to secede from the city, and then households who would like to secede from those neighborhoods, and family members who would like to secede from those households, and so on. The division has no logical end.
A good segue for a discussion of the aggregates (kandhas/skandhas) or Abhidhamma philosophy?
The situation in Tibet is much closer to that of the Palestinian people, with important differences. Does drawing Tibet and Palestine into comparison help the Tibetan cause? The community action network, avaaz.org, reports on the UN vote:
The Palestinian people's journey to freedom is far from over. But this is a powerful step, and our community played a key role in it. Palestine's Ambassador to Europe said today:

"Avaaz and its members across the world have played a crucial role in persuading governments to support the Palestinian people's bid for a state and for freedom and peace. They have stood with us throughout and their solidarity and support will be remembered and cherished across Palestine." – Leila Shahid, General Palestinian Delegate to Europe

Brussels Action: While EU leaders were met, THIS was happening right outside their windows

Madrid Action: Avaaz members want Spain PM Rajoy to say YES!

The US and Israeli governments, beholden to extreme lobby groups (yes, sadly even Obama has given in), threw everything they had at crushing this vote, using financial threats and even threatening to overthrow the Palestinian President if he went ahead. Europe was the key swing vote, and under intense US pressure, leaders were, just two weeks ago, leaning towards not supporting the Palestinian state. Knowing the stakes, our community responded with the speed and democratic force that we needed to win:

Nearly 1.8 million of us signed the petition calling for statehood.

Thousands of us donated to fund public opinion polls across Europe — showing that a whopping 79% of Europeans supported a Palestinian state. Our polls were plastered all over the media, and repeatedly cited in Parliamentary debates in the UK, Spain and France!

We sent tens of thousands of emails, Facebook messages and Tweets to leaders across Europe and made thousands of calls to foreign ministries and heads of state.

We unfurled a giant 4-storey banner outside the EU Commission in Brussels (right) while leaders were meeting inside. Then, we staged another stunt in Madrid. Previously, we had sailed a flotilla of ships past the UN calling for a vote. Our actions made headlines all over Europe.

Avaaz staff and members met with dozens and dozens of government ministers, top advisors, senior journalists, parliamentarians and thought leaders in each of the key countries, in many cases teaming up to win over leaders one by one through advocacy, pressure, parliamentary resolutions and public statements, always drawing on the surge in people power behind this cause.

We reached out to key thought leaders like Stéphane Hessel, a 94-year old survivor of Nazi concentration camps, and Ron Pundak, an Israeli who played a key role in Oslo peace process, to speak out in favour of statehood.

One by one, key European states broke with the US to answer the call of justice and their peoples. In the final vote tally we got just now, only 9 countries out of 193 have voted against! France, Spain, Italy, Sweden and most of Europe has voted for Palestine.
It seems highly unlikely that Tibet will see anything approaching recognized statehood soon. Even Taiwan, which is self-governing, has been denied this status due to China's territorial claim over the island. However, with increasing attention being brought to the plight of Tibetans under Chinese occupation and the rights of people everywhere to be self-determining, there is hope that meaningful, positive steps forward can be taken.