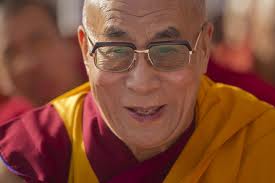 Via Lama Surya Das (www.surya.org):
I hope you will join the Dalai Lama tonight through January 21st for a LIVE webcast of The Mind and Life XXVI conference from Drepung Monastery in Mundgod, Karnataka, India.
"Twenty of the world's foremost scientists and philosophers with His Holiness the Dalai Lama and other senior Tibetan scholars will address topic over the course of the week that include the historical sweep of science and the revolutions in our understanding of our physical universe and the nature of the mind. Scientific and the classical Buddhist philosophical methods of inquiry will be studied, as well as selected topics in quantum physics, neuroscience, and Buddhist and contemporary Western views of consciousness. In addition, the applications of contemplative practices in clinical and educational settings will be explored."
There are two sessions each evening, 7:30pm PST and 11:30pm PST.
To listen go to: http://dalailama.com/liveweb 
And from the event website:
There will be two session each day (only one session on January 22)
Morning Session: 9:00am – 11:30am IST
Afternoon Session: 1:00pm – 3:30pm IST

January 17 – Introduction
Morning: Exploring the Nature of Reality: Buddhist and Scientific Perspectives
Afternoon:  Session: The Sweep of Science: Knowledge and the Nature of Reality

January 18 – Physics
Morning: Quantum Physics, Relativity, and Cosmology
Afternoon: The Nature of Reality

January 19 – Neuroscience
Morning: Changing the Brain
Afternoon: Exploring Neuroplasticity

January 20 – Consciousness
Morning: Consciousness in Western Science and Philosophy
Afternoon: Approaches to Consciousness

January 21 – Applications of Contemplative Practice
Morning: Clinical and Educational Applications of Contemplative Practice
Afternoon: Promoting Human Development

January 22 Future Directions
Morning: The Future of Monastic Science Education & Buddhism, Science and Modernity

For times in your region 9:00am IST on January 17th at Drepung Monastery, India, is the same as 3:30am GMT on January 17th in London, England; 7:30pm PST on January 16th in Los Angeles, California, USA; and 10:30pm EST on January 16th in New York City, USA.
All times Indian Standard Time (IST = GMT+5.30)