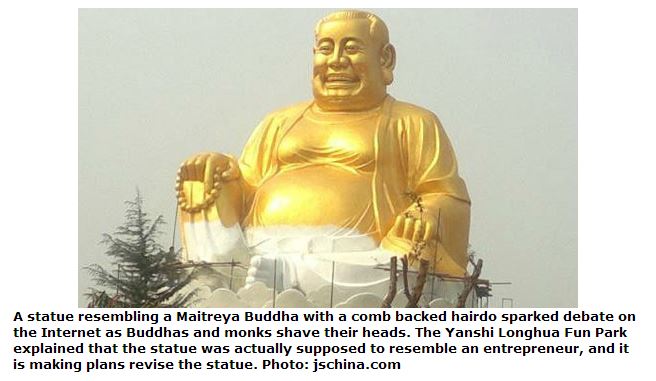 Courtesy China's Global Times (thanks to Tricycle's Emma Varvaloucas, who you can follow on twitter here). The article states:
A giant statue of a gold Buddha in Luoyang, Henan Province garnered attention on Weibo recently for sporting a slicked-back hairstyle, jschina.com reported.

First posted by Tian Yichen, a social commentator on Sina Weibo on April 22, the statue of the Maitreya Buddha attracted online attention for its conservative haircut more befitting a local official than an enlightened being.

According to the official website of the Luoyang Longhua Wonder Garden where the styled Buddha resides, the statue was made in the likeness of the garden's founder.

Netizens were divided on the statue's hairdo, with some feeling it inappropriate while others welcome the Buddha's updated image.
It's worth noting (and repeating ad nauseum perhaps) that this is NOT supposed to represent the historical Buddha. It is an East Asian representation of Maitreya – a quite different one from that found in the Greek-influenced art of Gandhara. The image represents Hotei (Japanese) or Budai/Putai (Chinese); and in this case a theme park entrepreneur. As Alan Sponberg writes in an entry on Maitreya for Robert Buzwell's (excellent and completely unaffordable) Encyclopedia of Buddhism:
East Asian Buddhists also recognize Maitreya in a particularly graceful form as the bodhisattva appearing in the lovely "pensive prince" pose and also as the "laughing buddha" ubiquitously encountered in the entryway of Chinese monasteries (and restaurants), the latter form based on the semihistorical sixth-century monk Putai, who was especially loved for his kindness to children.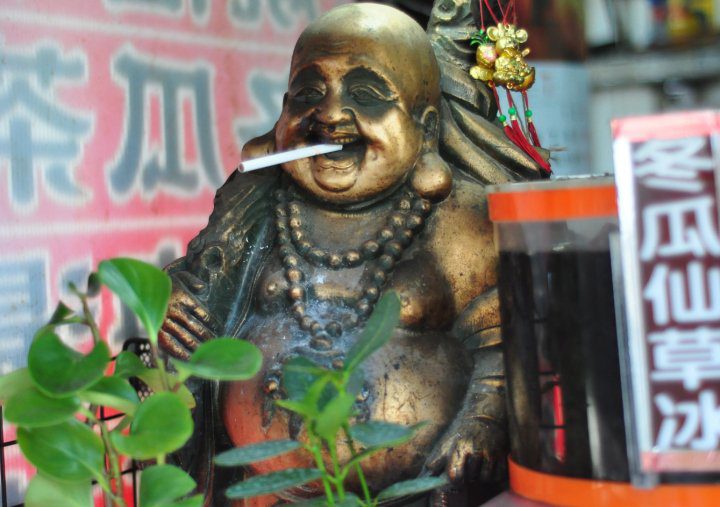 Perhaps Putai also appreciated cigarettes, or at least he appears to have in this photo I took in a market north of Taipai in 2010.
What do you think? Is it sacrilege to portray Maitreya with slicked-back hair or a cigarette? Is it 'keeping up with the times'? Would you react differently if these were in a shop in London or Los Angeles?