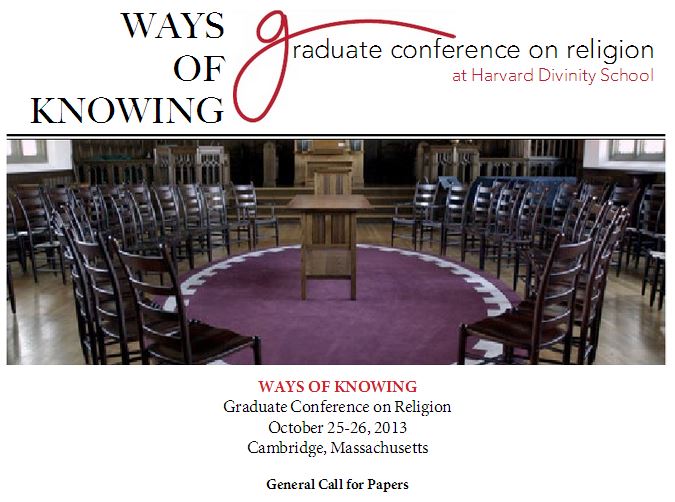 From their site:
The Science, Religion, and Culture Program at Harvard Divinity School (SRCP) announces the second annual graduate student conference on religion. In our inaugural conference, held in October 2012, eighty students and early career scholars representing twenty-five different graduate programs from across the United States and the world gathered to present their research. Following the success of last year's conference, this multi-day event will be comprised of thematic panels that cross religious traditions, academic disciplines, and intellectual and theological commitments. The conference aims at promoting interdisciplinary discussion of prevailing assumptions (both within and outside the academy) about the differentiation, organization, authorization, and reproduction of various modes of knowing and acting in relation to religion.

We invite paper proposals representative of a variety of theoretical, methodological, and disciplinary approaches and that explore religious practices especially in relation to identities, authorities, discourses, texts, and experiences. We welcome projects that utilize all sorts of theoretical tools, including discourse analysis, gender theory, race theory, disability theory, postcolonial theory, performance theory, and ritual theory. Papers may focus on a specific period, region, tradition, person or group, and/or on a set of practices, texts, doctrines, or beliefs. Projects that are primarily sociological, anthropological, theological, ethical, textual, historical, or philosophical are welcome, as are projects indebted to multiple disciplines.

Possible approaches include, but are not limited to, the following: 1) an exploration of a specific way of knowing, being, and engaging the world or particular discursive framework in relation to religion; 2) an historical, sociological, and/or anthropological analysis of the cultural processes that support a specific religious discourse or practice, its authoritative structures, and/or its strategies of inclusion and exclusion; 3) an analysis of gender, sexuality, race, and/or socioeconomic class with respect to religious texts, practices, or performances; 4) a comparative examination of religious texts and/or their interpretations, with attention to the historical, sociopolitical, cultural,and/or intellectual contexts that mediate and delimit different interpretative strategies and practices; 5) an analysis of the interplay between religion and scientific, moral, and/or legal discourses, practices, and authorities; 6) a theological construction or analysis of a particular normative framework, which critically and/or comparatively engages one or more religious traditions.

Special Call for Papers
This year's conference will also feature two thematic modules. Several panels will be devoted to each of the following themes:

"Constructions of Autonomy in Early Modern and Modern Contexts"
and
"Ritual as a Category of Religious Experience"
See their website for full details and submission information:
If I weren't working on my thesis as if my head was on fire (see last post), I would seriously consider submitting something to this… And who knows, I might just show up anyhow (October is a long way away).