(June 5 update: VICTORY! The Peers, as they're called, in the House of Lords voted in support of marriage equality by 390 to 148 votes, a majority of 242.)
And a July 17 update: the bill is now LAW with the Queen's approval.
Today Britain's House of Lords is set to debate a bill which would grant equality to same-sex marriages.
"The legislation being debated would enact marriage equality in England and Wales, allowing Britons the right to marry their same-sex partner. Parliament's other chamber, the House of Commons, gave final approval to the legislation in May.

Marriage equality supporters rallied outside the Houses of Parliament in London today, carrying signs that read "Say I Do to Equal Marriage" and "Some Girls Marry Girls. Get Over It." (advocate).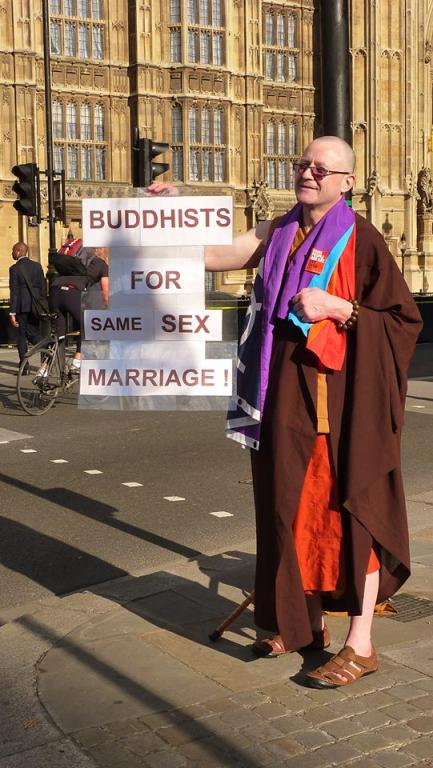 The caption for the image there reads: "Oggi di fronte al Parlamento inglese dove veniva dibattuto il matrimonio egalitario" (Today in front of the British Parliament where  equal marriage was debated).
The Church of England's Archbishop of Canterbury Justin Welby has voiced his opposition to the bill, stating that if it passes, marriage would be "abolished, redefined and recreated, being different and unequal for different categories…" (read more here)
You can click through to see the full post, but here is a bit from my 2012 post on Gay Marriage in Buddhism:
I'll spare you the run through that Harvey gives of views in various Buddhist countries (you should get his book though), only to say that there are signs of both acceptance and (usually mild) disapproval. Harvey cites authors a couple times who sum up homosexuality as basically not a big deal in Buddhist texts and thus Buddhist thought. I wrote a short article on this, with regard specifically to the Dalai Lama's statements on homosexuality in 2005. Gary Daubney, in a thoughtful response to my article, further noted this sentiment, citing A.L. De Silva who wrote, "As homosexuality is not explicitly mentioned in any of the Buddha's discourses (more than 20 volumes in the Pali Text Society's English translation), we can only assume that it is meant to be evaluated in the same way that heterosexuality is." (http://www.buddhanet.net/homosexu.htm). Furthermore:

A.L. De Silva, quoted above, has also written that homosexuality was only made illegal in predominately Theravadan Burma and Sri Lanka when under British (Christian!) rule, and that Thailand, which was never colonized by a Western power, has never banned homosexual activity. The modern thriving gay scene including the colourful 'lady-boy' subculture are reflections of this traditionally tolerant attitude in the Land of (Buddhist) Smiles.

I conferred with my friend Paisarn, a journalist and activist from Thailand, and he sent me an article he cowrote for Valentines day on the topic: Love for a new age. There it is noted that:

At least two decades of newspaper headlines from Thailand about same-sex marriages–like that of Beer and Pick–have left many foreigners thinking that gaymarriage is legal here. However, these weddings confer no legal benefits whatsoever.

In contrast, some Western countries grant homosexual couples rights similar to those of heterosexual ones, even while withholding the status of "marriage" due to its religious definition as a union of man and woman.

Since Buddhist scripture offers no particular objection to same-sex relationships, the concept of "marriage" in Thailand is largely familial, communal and social. A wedding reaffirms the couple's bond and rallies support for them. Often monks are invited to preside and give blessings.

And yet:

On Valentine's Day 2010, two lesbian couples – one in Chiang Mai and the other in Pathum Thani – attempted to register their relationships at their local district offices. Both were politely turned down.

As Thailand's LGBT community continues to grow and mature, the demand for such recognition will only become louder.

Meanwhile, over 8 years ago, the king of Cambodia announced his support for gay marriage, which raises an interesting question: how many heads of state vocally support same-sex marriage? Finally, two Theravadin monks who give compelling arguments for equality:

Ajahn Sujato on "Why Buddhists should support marriage equality." … The full post is here.
You can watch today's yesterday's discussion in the House of Lords live recorded at Advocate.com.