These two people are hard to find in the world. Which two? The one who is first to do a kindness, and the one who is grateful and thankful for a kindness done."

— AN 2.118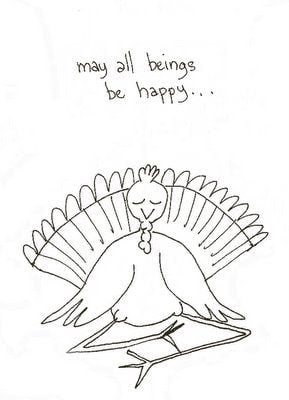 I'm back in Montana, enjoying time with my family – mostly eating, watching TV/movies, and playing cards, a good break from phd/teaching/etc life in England. This is, for me, always the best time of the year. Time with family, with no schedule, no deadlines, nothing to do. Just being.
In the midst of that, it has become natural to me to be grateful for all that has come about to make this possible. Gratitude is definitely, definitely, definitely something to be cultivated and practiced, no matter what your religious tradition or life philosophy. Thannisaro Bhikkhu writes on the "Lessons of Gratitude" from the perspective of the modern Western Theravadin Buddhist. If you're into natural beauty and photography, you're sure to enjoy the TED talk by Louie Schwartzberg on Gratitude and Happiness (2011). And then there is this year's talk by a Benedictine monk, David Steindl-Rast: Want to be happy? Be grateful (or see the project he inspired: gratefulness.org).
Not all of that is strictly "Buddhist" but it all may be of benefit to Buddhists nonetheless. And likewise the Buddhist content above and below my be beneficial for non-Buddhists. Enjoy your day. Be grateful for the many ways others have helped you. Reach out to help others. It's an increasingly small world, and a little bit of joy, gratitude, and service can go a long way.
From one of the many great teachers who has come through Montana, Mary Grace Orr, on Gratitude:
From last week's Festival of Faiths Interfaith Thanksgiving Service, Rev. Thich Hang Dat of the Ten Thousand Buddhas Summit Monastery:
A talk by Sensei Bob Oshita from the Buddhist Church of Sacramento, teaching on the Nembutsu and Gratitude in Vancouver BC:
And lastly a longer, but very much worth the time, dharma talk by Ajahn Brahm on gratitude from 2008: