"All victims of human rights abuses should be able to look to the Human Rights Council as a forum and a springboard for action."

– Ban Ki-moon, UN Secretary-General, 12 March 2007, Opening of the 4th Human Rights Council Session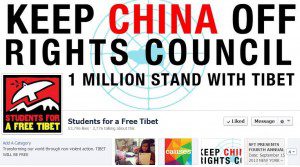 "Lack of access to justice, the official impunity, the possibility of arbitrary detention…." These are not statements about a country you would expect to be joining the world's highest Human Rights body. The country in question is, of course, China, which was described in such terms last month by the BBC. At the same time, the UN itself was criticizing China's Human Rights record.
The US has voiced some reservations to the idea of China being on the council:
"We're concerned that China suppresses freedoms of assembly, association, religion, and expression," Uzra Zeya, the acting assistant secretary in the State Department's Bureau of Democracy, Human Rights, and Labor, said at the review [of candidates for the council]. China "harasses, detains, and punishes activists,… targets rights defenders' family members and friends, and implements policies that undermine the human rights of ethnic minorities." (via CSM)
So it comes as little surprise that a mass movement has sought to block China from joining the council. Currently the petition sight Avaaz has 965,000 signatures (and is seeking 1 million before the Tuesday vote). The Tibet Network has released the following video in support of the petition:
However, according to the
Christian Science Monitor
, China, along with Saudi Arabia and Russia, are due to win easy election to the body for  three years. Read more about
candidates and world reaction here
. It should not be lost on anyone that the Human Rights record of the US has been deeply marred by Bush-era policies such as those that expanded spying and created the Guantanamo Bay detention camp and the indefinite detention of people there, along with the repercussions of various economic policies – many, if not all, of which continue under Obama's administration. This is why I would hope that countries with legitimately 
better
records would stand up loudly to protest the elections of such flagrant abusers of Human Rights; a move which would simply corrode both trust in and the efficacy of the council.
If you live in a country that violates Human Rights, push for change from within. If you live in a country with a good record, push for a more robust involvement in international bodies such as this. It is actually not easy to see a clear ranking of countries (many lists of 'worst' countries can be found, but little on the 'best' countries). But using Wikipedia's "Freedom in the World" list might be a fair starting point to see where your country stands. You can also see Amnesty International's report on Human Rights by country. Lastly, have a look at Human Rights Watch's 2013 report, which includes excellent essays on topics ranging from Tradition vs Rights to failed approaches to corporate accountability.