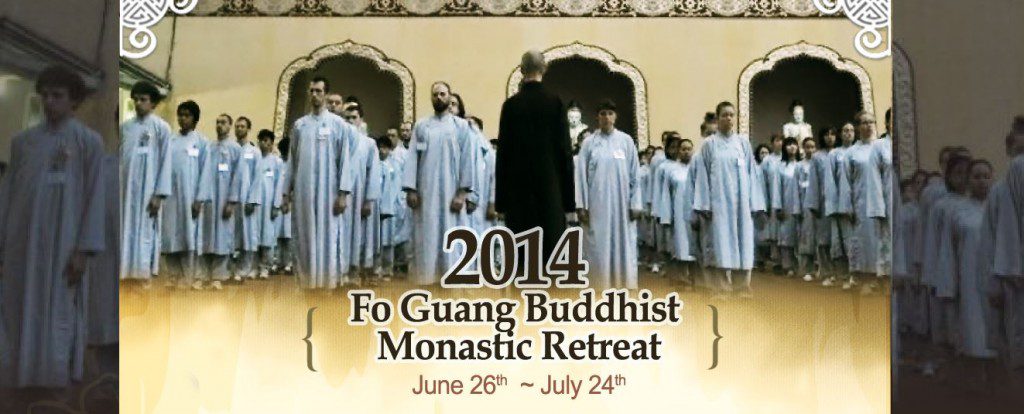 The Fo Guang Buddhist Monastic Retreat program, hosted at Fo Guang Shan Monastery in southern Taiwan, is accepting applications for its 2014 summer Buddhist monastic retreat program. The program runs from June 26th to July 24th and includes two weeks of introduction and classes, followed by a seven day intensive retreat, a International Youth Seminar on Life and Chán, and a tour of Taiwan.
They will accept 50-60 university / college students (or graduates within 3 years after graduation aged 18-35) and the entire program is free (participants pay only for their transportation to and from the program).
For students interested in an authentic Chinese Buddhist monastic experience, this is perfect. It's not the cave high up on the mountain that some people envision Chán or Zen to be, but it is a large monastic community where real practice, education, and social engagement happens.
I had the pleasure of attending the program in 2010 and I both enjoyed it and learned a tremendous amount in my time there. There is a notable 'intensity' factor that potential participants should keep in mind (5:30am wake-up, for instance), but like a lot of intense experiences, it made the time there all the more memorable and the camaraderie between participants all the more steadfast. Besides, for those really interested in a Chán experience, 5:30am shouldn't be a surprise at all.
In any case, we can all handle an extra-early morning for a couple weeks. And the reward for your effort is a remarkably well-structured event, filled with classes, meditation, chanting, and talks from a variety of monastics including the talented and brilliant Venerable Shi Huifeng. Perhaps the most important part of the program will be the people you meet there – although some people will say it was the food, which was amazing. There is nothing else quite like this for drawing together young people from around the world (most will be from the US, but we had participants from Canada, several European countries, Russia, Africa, and Asia) who are willing to spend four weeks learning about Chinese Buddhism and Taiwan's history and culture. I really cannot say enough good things about the people I met there and and the pleasure it has been to know them for the last three and a half years.
So. If you're motivated, if you're interested in East Asian Buddhism, culture, and practice, and if you can spend four weeks this summer in Taiwan: apply.
You can find out more here or contact the retreat team at fgmonasticretreat@gmail.com.
Here are some photos from our year: