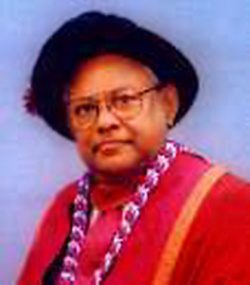 The Colombo Page, a Sri Lankan online newspaper, has reported that the great writer and professor of Buddhist philosophy, David J. Kalupahana, passed away January 15 in Honolulu, Hawai'i.*
Kalupahana retired in 2000 as professor of philosophy at the University of Hawai'i at Manoa, a department internationally recognized for its East-West philosophical focus. He earlier served as the Chairman of the Department of Philosophy.
His works on Buddhist Philosophy and Buddhist Ethics were ground-breaking in their use of analytic philosophy to develop and expound the ideas of great Buddhist thinkers. His doctoral thesis at the University of London brought together his depth of understanding of Pali philosophy with Chinese Agama studies to create an influential analysis of the Buddhist understandings of truth and causality.
Later works, like those above, developed specific themes in Buddhist philosophy, including The Principles of Buddhist Psychology (1987), The Buddha's Philosophy of Language (1999), and The Buddha and the Concept of Peace (1999). He also produced translations of the Dhammapada (with Pali) and Nagarjuna's Middle Verses, a philosophical study of Nagarjuna's great work, and a biography of the Buddha.
As voluminous as his work was, it was equally deep and insightful. Many generations of future scholars of Buddhist philosophy will continue to rely on his work as a starting point, either to agree and press forward, or to attempt to carry the conversation in different directions.
Sri Lankans of Hawaii awarded Prof. Kalupahana the "Son of Sri Lanka" award last year, writes the Colombo Page. He is survived by his wife Indrani, two sons: Nandana and Milinda, as well as a daughter, Deemathi. The funeral service will be held on January 21st 2014, at 2:30 3:00 p.m. at the Oahu Cemetery in Honolulu.
This post may be updated with further reports and eulogies as they become available.
1/21 update: an obituary has been posted in a Hawai'i newspaper.