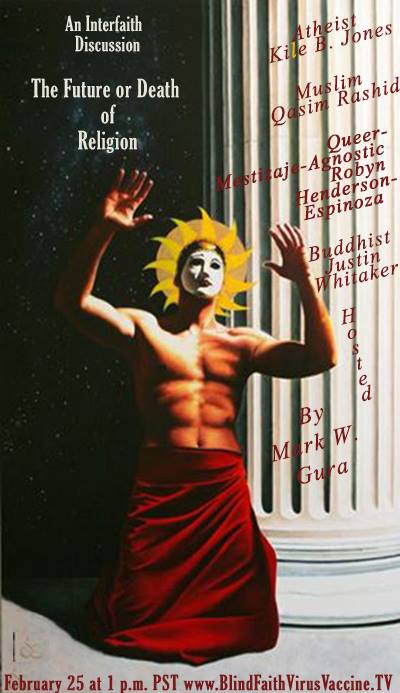 February 25, 1pm PST.
Mark your calendars.
I will be speaking with three amazing representatives of different religions, hosted by Mark W. Gura, on the topic of the future of religion. Here is the official blurb:
An Interfaith Discussion
About The
Future Or Death Of Religion
Hosted By
Mark W. Gura

With the turn of the new year and recent depictions of religion in the media, many are asking where religion is heading in 2014. The Rise of the Nones, the recent Pew Study on Religious Hostility, Pope Francis, and current issues in Religious Freedom, have shown the changing and dynamic landscape of religion in the United States and worldwide. Issues of gender and sexuality, race and ethnicity, the portrayal of Muslims and atheists in the media, and the rising interest in different forms of Buddhism, make this conversation pertinent and cutting-edge. In this interfaith conversation, we have an atheist (Kile Jones, Founder of Interview an Atheist at Church Day), an Ahmadi Muslim (Qasim Rashid, Author of "The Wrong Kind of Muslim"), a Queer-Mestizaje-Agnostic (Robyn Henderson-Espinoza, Researcher at Iliff School of Theology), and a Buddhist (Justin Whitaker, Blogger at American Buddhist Perspective) talking about where we see religion going in 2014. So come join us for a lively discussion with a diverse group of people!
For some amazingly helpful pre-reading, try the section at Patheos on the Future of World Religions. You'll be surprised at how many big names and insightful discussions are found there. And I myself will be focusing in on the Future of Buddhism section, which itself has some super amazing contributors including: Mushim Ikeda, Thubten Chodron, Rev. George Tanabe, Les Sponsel, Chade-Meng Tan, James Coleman, Natascha Bruckner, Venerable Jaguang, Stephen Levine, Alan Senauke, Chan Master Sheng Yen, Philip Ryan, Josh Bartok, Maia Duerr,  Jeff Wilson, Paul Numrich, Christopher Queen, Bernie Glassman, Charles S. Prebish, and Susan Kaiser Greenland.
Wow. I have some work to do. I hope to see you Feb 25th.
You can RSVP and find out more on our event page on facebook.