The Tibetan Center in Kingston, New York, held a discussion last year of the six decades of human rights abuses in Tibet under Chinese occupation, the recent rise in protests (especially self-immolations), and the possibilities concerning the future of Tibet.
The Future of Tibet

Saturday, February 23, 2-4 pm

Bertelsmann Campus Center, Bard College

In 2012, there was an intensification of protests and a sharp increase in the number of self-immolations by Tibetans, a response to the continued annexation of their homeland by the People's Republic of China. Tibet observers and analysts cite six decades of human rights violations and cultural and religious repression as some of the main causes. The panel discussed human rights, the possibility for Tibetan autonomy or independence, and how we, the world community, can help Tibet to shape its future with Robert Barnett as Moderator.

Lobsang Nyandak, Representative of His Holiness the Dalai Lama to the Americas

Tendor, Executive Director, Students for a Free Tibet

Robert Barnett, Director, Weatherhead East Asia Institute, Modern Tibet Studies Program, Columbia University

Robert Thurman,Tibetan Studies scholar and president of Tibet House US [click here for his recent youtube talk on Tibet]

Ming Xia, Professor of Political Science, City University of New York

For more on events like this, visit http://www.tibetancenter.org/
Last February, Tsampa Revolution (a group you can follow on facebook) released images from Amdo, eastern Tibet, showing Tibetans defiantly reciting poetry (you read that correctly) in their native language. Chinese authorities have tried for years to replace education in Tibetan with (Mandarin) Chinese, sparking several protests over the years. February 21st, the day of the protests, was International Mother Language Day.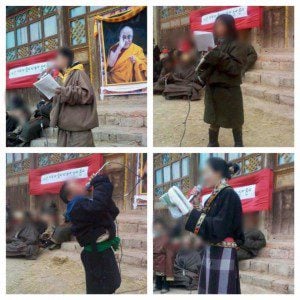 Chinese oppression is not the only force working to destroy Tibetan culture. The Guardian newspaper recently (2013) ran an article about Christian missionaries there, working undercover to convert Tibetans.  Tibet has a long history of contact from Western missionaries. Under Geluk and Mongolian rule, Tibetan officials have often been open and curious about foreign religions, with one famous (Jesuit) missionar, Ippolito Desideri, only being forced to leave by rival orders in his own church. At other times, Tibet has been notoriously closed-off from foreigners.
These days, missionaries enter under false-pretenses, often as tourists but also sometimes as business people, exploiting changes in China's (and thus Tibet's) economy:
…experts say that changing economic circumstances could make foreign Christians more influential in Tibetan society now than at any point in history.

Robbie Barnett, a leading Tibet expert at Columbia University, argues that the missionary phenomenon overturns the standard notion of western attitudes towards Tibet – that western society is intent on protecting Tibetan religion, while the Chinese government is more concerned with dismantling it. "If you look at foreigners there, there are people whose commitment is to the opposite – it's to replace Tibetan religion with their own religion."

More than 10 people interviewed for this article said that Chinese authorities in Tibetan areas were selectively tolerant of missionaries for reasons that range from pragmatic to borderline sinister.
It is (somewhat) understandable that Christians would like to spread their "Good News" in Tibet. What is unfortunate is the destruction of culture that is likely to accompany that spread (think of US Native Americans). Missionaries also become pawns, either willingly or not, in China's game of control over Tibetans. As Barnett goes on to state: "China isn't trying to destroy religion by any means, but they're trying to destroy certain parts of Tibetan religion. They're not the same project by any means, but they certainly have some congruency."
Educate yourself, educate your friends and family.
From 2014:
* last year's post can be found here.