I am often asked "why study Buddhist ethics?" Sometimes people are simply curious, others actively oppose the very notion. The curious ones are wonderful to speak with. For you, the curious, I'm happy to share this article, which is free for all to download. The value of studies in Buddhist ethics, including those of my supervisor, Damien Keown, and Peter Harvey among others, becomes clear as one grapples with guidelines for real-world decisions. I'm also chuffed to bits (as they say here – it mean's very happy) to see my friend Lynette Monteiro and co-authors recently published in the latest issue of Mindfulness, drawing from some of the same material. Kudos to all who are putting systematic analyses of doctrine to work.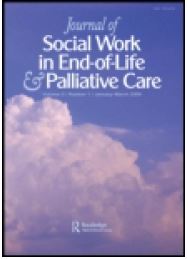 '

Best Article': Buddhist Ethics and End-of-Life Care
The Journal of Social Work in End-of-Life & Palliative Care presents free access to the 2013 Editor's Choice Best Article, "Buddhist Ethics and End-of-Life Care Decisions." This article provides a comprehensive review of the diversity of ethical opinions on end-of-life care within U.S. Buddhist communities and gives recommendations for social work practice with Buddhist clients.

EDITOR'S CHOICE BEST ARTICLE: Buddhist Ethics and End-of-Life Care Decisions

Andrew J. McCormick, Volume 9, Issue 2-3, 2013, Pages 209-225

Access at www.tandfonline.com/WSWE. Download the PDF article or view it online in HTML. Share this content with your colleagues and cite it in your research.

Topics such as organ donation, life-sustaining treatments, voluntary cessation of eating, physician aid in dying, and hospice care are discussed through the lens of multiple different Buddhist traditions and beliefs. Author Andrew J. McCormick of the University of Washington emphasizes the importance of cultural competence when navigating the diverse landscape of Buddhist ethics and describes effective approaches for social work practitioners.