Danny Fisher has already shared this short documentary looking inside Thailand's only all-female monastery but I came across it again today and found it worth re-sharing. As Danny notes from the website Dharma Documentaries:
This is a short but informative and positive look at the current state of bhikkhunis in Thailand with interviews with people on both sides of the debate.

The documentary is made as part of the Secret Tribes series which is fronted by Malaysian presenter Ezra Zaid…
The video is noteworthy in at least a couple respects: the emphasis on tribes may be in vogue in anthropology, but it's not a term that is generally a term used in Buddhist studies. The research on Theravadin Buddhism -the context given by the narrator/host- is not perfect, but acceptable, and I am told that the translations from Thai to English are likewise not the best. However, caveats aside, it is great to get a brief inside look at the lives of Thai Bhikkhunis.
Alongside it is a wonderful six-minute documentary from the NY Times on the Buddhists in Pink (nuns in Burma), and the forthcoming Daughters of Dolma, about Tibetan Buddhist nuns in Nepal.
The "Secret Tribes" documentary looks at Dhammananda Bhikkhuni, a progressive force in Thai Buddhism described by Donald Swearer as a "prominent Thai Buddhist academic, [formerly named] Chatsumarn Kabilsingh, who resigned her position in the philosophy department at Thammasat University to ordain in Sri Lanka … with the hope of establishing an order of nuns in Thailand." (Encyclopedia of Buddhism, 2nd volume, Buzwell ed.).
As I wrote in a 2010 post on Buddhist Feminism, the writings of early Buddhist women are absolutely amazing works of poetry. Here's an updated translation of one such poem (gāthā), from the elder nun Muttā (which means Free):
So free! I'm so wonderfully free!
I am free from three lousy things:
Mortar and pestle,
Crooked little husband,
Birth & death.
Having removed that which causes rebirth*, I am free.
– The Elder Nun, "Free"
* chiefly: craving, aversion, and ignorance.
For more on women in Buddhism, you could go back to a 2012 post I wrote, 10 More Buddhist Women You Should Know, covering the breadth of women in Buddhist history, or to last year's post celebrating International Women's Day with 15 Great Women Buddhist Blogs.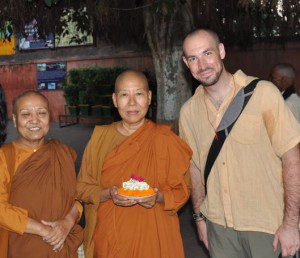 SUGGESTED READING:
Books by Chatsumarn Kabilsingh, Dhammananda Bhikkhuni.
Buddhism After Patriarchy: A Feminist History, Analysis, and Reconstruction of Buddhism
– Rita M. Gross
Meeting the Great Bliss Queen: Buddhists, Feminists, and the Art of the Self
– Anne C. Klein
Prolife, Prochoice: Buddhism and Reproductive Ethics.: An article from: Feminism & Nonviolence Studies
– Karma Lekshe Tsomo
Religious Feminism and the Future of the Planet: A Christian-Buddhist Conversation
– Rita M. Gross, Rosemary Radford Ruether
Buddhism, Sexuality, and Gender
– Jose Ignacio Cabezon (Editor). My undergraduate advisor has an article in this on early Buddhism and Women that has been very influential.