I've once again found myself in rural India, Bodhgaya to be precise, teaching Buddhist Philosophy to American undergraduates. I was here in 2010, early in the days of my PhD, and coming here again as I near the end of this colossal project seems fitting.
I remember when I first arrived in England for my MA all those years ago, marveling at how much history surrounded me: pubs dating to the 1600s, churches from the 14th century and before, castles, paths, and crossings all seeing centuries of humans passing by.  Now it is much the same in Bodhgaya, absorbing layers of history in the form of stories, some told by those who have been here for decades watching the village become a city; our abbot here at the Burmese Vihar arrived here in the 1960s when there were just 8 Buddhist monasteries (and/or temples). Now there are over 80. And just to think of the ebb and flow of life here going back to the days when the Buddha walked these dusty roads.
My friend Gaurav, the Hindi teacher, and I took a walk on Friday, to the Gandhi statue near the Mahabodhi Temple. From there we examined the great new wall that was built there in response to the 2013 July bombings. But our objective was rather mundane, so rather than passing around the wall to see the temple, we trudged on through packed roads, fighting traffic jams of school-children, men on bicycles, motorbikes, shoppers, and the occasional car or bus. We ended up quite far south of the temple, too far to turn and walk around it to end up on the other side where Japanese and Thai monasteries sit. Instead we turned the other direction, to the river, now dry, as a quick and open path back. It was indeed open, aside from a couple territorial stray dogs, but this turned out to be more of a problem than a blessing. The sun at midday is especially oppressive this time of year, when it is mixed with monsoon-driven humidity. 90 degrees feels like 108. We made it back, but not without a sturdy reminder of unprepared I am for all of this – leaving me with a heat and dust-(and whatever else I inhaled out there)-infused cold.
Three years in mild England have softened me, but luckily my previous time here has made me at least theoretically ready and I've made a point to rest and return to 100% before venturing too far out again.
It's good to be here. As much as I miss my friends in England (football, pub quiz, lunches at Cosmo, Thursday nights out, picnics, and other adventures) and my friends and family back in the US, I remember Bodhgaya becoming a 'home' to me last time and look forward to that again. This time around I have many more friends to see in India, if time allows, having already enjoyed a couple evenings out with Deepak and Maneo in Delhi. It's a big country though; so I fear I might have to come back again some time down the road to see those I miss on this trip.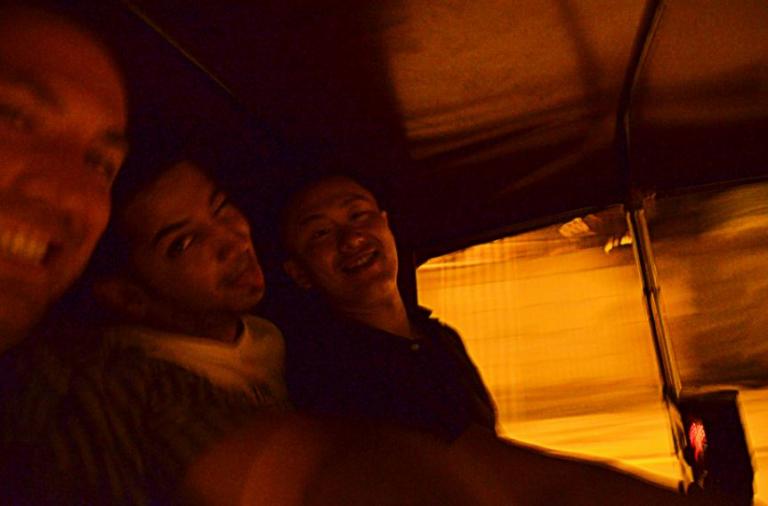 That's the news for me. There is also news in the area about malaria, which has been bad around here, and Maoists, who were also blowing things up last time I was here. We all should be fine regarding malaria: stocked up on anti-malaria pills, nets, and cremes, along with pretty good conditions regarding cleanliness and sanitation; all of which those suffering the worst of it do not have. And the Maoists rarely hurt anyone; but we still keep an eye on the news and avoid potential run-ins when we venture out in our travels. Our big worries are the heat and dust and a few achy stomachs still adjusting to Indian food.