In this short video the Buddhist teacher and filmmaker, well known for his wit and sense of humor, speaks about the place of Homosexuality in Buddhism.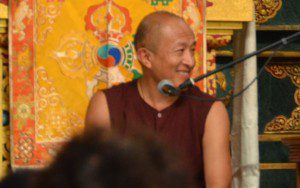 Here is a partial transcript:
Just um, this interesting question of sexual orientation, like gays and lesbians, what to do with, you know, how does this sort of fit with Bhutanese sort of Buddhist world? And I would like to speak [about] this a little bit.

In Buddhism, as Shantideva said (in Tibetan): wisdom is the most important [thing]. All the others [are] secondary.

You understand?

To see the truth is the most important [thing]; morality, discipline, even meditation, even so called meditation as precious as it sounds, if your meditation is not making you see the truth, you are basically rotting your butt. You understand? Sitting on something. It's useless. Okay? Maybe it's going to relax you a little bit, it may sort of make you calm down a little bit. So what? If you don't see the truth, a little bit of calm, that you can do, that you can achieve in many ways. To see the truth is always so important. I want to put that to you, because, so called method is always mixed with the culture – culture.

Buddhist truth, such as the Four Seals of Buddhism is never ever stained by culture. Getting to that truth, yes, because it has to be delivered to human beings, and when you deliver this to the human beings, human beings can only think in terms of culture. You understand?

So, what I want to say is that therefore your sexual orientation has nothing to do with understanding or not understanding the truth. You could be gay, you could be lesbian, you could be straight, we never know which one will get enlightened first. Probably lesbians. We never know.
He later compared sexual orientation to cheese, saying, "you know, some people like cottage cheese and some people like Swiss cheese. It's a bit like that, really. And some people like both. And why not?"
Speaking before a Bhutanese audience, he concludes:
…those with that orientation, you also have to be patient, because as much as we Bhutanese think we are a great species on this earth, you know, we are very conservative… Time is changing, and we should be really tolerant, I mean tolerant is even I mean… You should not be tolerating this, actually. You should be respecting it. Tolerance is not a good thing. If you are tolerating this, it means that you think it's something wrong that you will tolerate. But you have to go beyond that. You have to actually respect this one.
The video was uploaded Jan 22, 2015, but it's not clear that this is the date it was recorded.