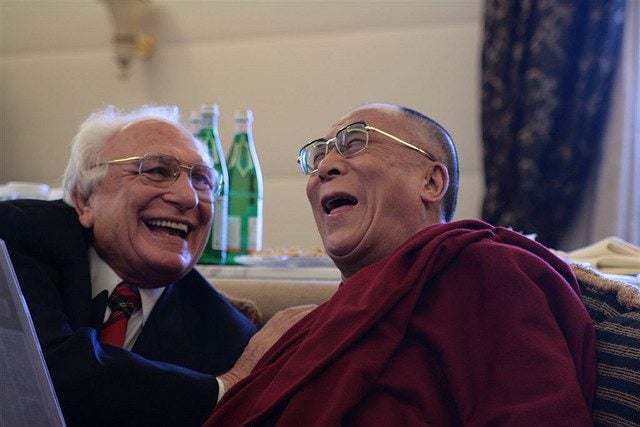 TIME reports today that H.H. the Dalai Lama will appear for the first time in public with President Barack Obama at the Feb. 5 National Prayer Breakfast in Washington D.C. The breakfast, organized by the Christian Fellowship Foundation, is expected to bring 3000 people of various religions together "in the spirit of Jesus". According to TIME:
The Dalai Lama will attend this year's National Prayer Breakfast on Feb. 5, marking the first time that the Tibetan leader will appear in public at an event that President Obama is expected to also attend, according to a press aide for Pennsylvania Sen. Bob Casey, who is co-chair of the event.

"The Dalai Lama will be at the breakfast, but he does not have a speaking role," Casey aide Alex Miller told TIME in an email. The White House did not immediately confirm the report.
The President's previous three meetings with the Dalai Lama have been held privately. Their meeting in 2010 (in)famously concluded with the Dalai Lama leaving the White House through a side door past piles of garbage. That meeting, and others, nonetheless upset Chinese authorities who consider the Dalai Lama to be a dissident and "splittist".
Following the Dalai Lama's last private meeting with Obama in 2014, Chinese Vice Foreign Minister Zhang Yesui summoned a U.S. diplomat to register his nation's objections. "The Tibetan issue is the domestic affair of China, and the United States bears no right to interfere," he said, according to the Xinhua news agency. "Such a move will gravely sabotage China-US co-operation and relations, and will definitely undermine its own interests."
As I wrote earlier this month, the Dalai Lama has seen a marked decline in meetings with world leaders, likely as a result of vocal protests and growing Chinese influence in the world. At that time it was reported that even the Pope had refused to meet with the Dalai Lama out of fears of upsetting China, a claim that the Pope has recently denied despite it having come from a Vatican spokesman. This news also comes as several Communist Party officials in Tibet have been punished for secretly supporting the Dalai Lama, "effectively acknowledging the Chinese authorities' failure to eradicate loyalty to the religious leader in exile, even among Party members."
The theme of the National Prayer Breakfast will be "Remembering the Armenian Genocide of 1915" and it will be aired Feb. 5 on C-SPAN. I'm sure that more than a few Chinese officials will be carefully watching to see how close the President and Dalai Lama come to one another and if any words are exchanged.