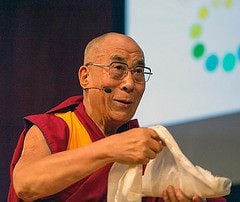 His Holiness the Dalai Lama, once hailed as a "multimedia phenomenon and ascetic Buddhist superstar" by the New York Times, has had a tough year. After meeting nine heads of state in 2001 and eleven in 2002, the Dalai Lama met with just one by the middle of 2014: President Barack Obama. In an article discussing the event, Shannon Tiezzi of The Diplomat, described Obama as rather bravely walking a "tightrope" in the meeting, where he had to make it clear that he regarded the Dalai Lama as a religious and cultural leader and that the U.S. recognizes Tibet as part of China.
Then, in October of 2014, a meeting of Nobel Peace Prize winners was canceled after officials in South Africa refused to grant the Dalai Lama a visa to attend. There was not even a plan for the Dalai Lama to meet with South African President, Jacob Zuma. The Dalai Lama was simply refused entry to the country, home of fellow Nobel Peace Prize winner Nelson Mandela who passed away in 2013, reportedly due to fear of upsetting China.
But the most disappointing moment of 2014 for many Catholics and Buddhists alike was when Pope Francis refused to meet with the Dalai Lama in December. The current Pope, who has grabbed headlines for his progressive stances on many issues, this time found the spotlight for bowing to pressure from China, describing the current state of affairs as a "delicate situation" and saying that a meeting between the two religious leaders "could cause problems." Jonathan Mirsky writes at NY Review of Books blog that those problems likely refer to China's tight grip on the growing Catholic population inside its own borders, a population which must choose between government controlled "Patriotic Catholic Association" churches and underground Catholic organizations still loyal to the Pope.
China may be claiming diplomatic victory over the Dalai Lama with world leaders and extending its pressure to religious ones. But one audience should still hold the Dalai Lama close to heart: attendees of the Glastonbury Festival, itself said to be "Inspired by the ethos of the hippie, counterculture, and free festival movements" (wikipedia). News came out this week that the Dalai Lama's online schedule included a visit there on June 28th, which would have him reportedly just ahead of Lionel Richie. However, that announcement has since been removed (possibly because the festival is waiting to complete its line-up), leaving just his planned June 29 public talk in Sunbury on Thames, Middlesex, on Buddhism in the 21st Century at the Kempton Racecourse.