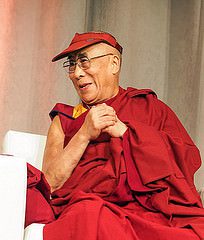 Speaking from Dharamsala, India, American Nobel Peace Laureate Jody Williams told reporters that the event in South Africa had been cancelled and shifted to another venue, to be announced. Williams is in Dharamsala with Shirin Ebadi of Iran, a fellow laureate, to celebrate the 25th anniversary of his 1989 award (live stream available here) on October 2nd.
"We feel proud that the summit has been cancelled after we lodged a protest over denial of visa to the Dalai Lama," she said. "Even other Nobel laureates have lodged their protest over the issue," according to OneIndiaNews:
Williams, Ebadi, Leymah Gbowee of Liberia and a representative of the International Campaign to Ban Landmines (ICBL) have announced they were pulling out of the summit which was to be held Oct 13-15.

"The Dalai Lama advocates a non-violent, negotiated solution to the Tibet problem — what he calls 'the middle-way approach' — and is calling for real autonomy for Tibet under Chinese sovereignty," a Nobel Women's Initiative statement said.

The Nobel Women's Initiative is led by Nobel Peace laureates Williams, Ebadi, Rigoberta Menchu Tum, Gbowee, Tawakkol Karman and Mairead Maguire.

It said the decision to cancel the scheduled trip "follows South Africa's refusal to issue a visa to the Dalai Lama for the Nobel peace laureates in Cape Town, and China's public declaration of thanks for South Africa's decision to block the spiritual leader from entering South Africa".

Fourteen Nobel Peace laureates had also urged South African President Jacob Zuma to allow the Dalai Lama to visit South Africa. In a letter to Zuma, they said they were "deeply concerned about the damage that will be done to South Africa's international image by a refusal or failure to grant him a visa yet again".
The Dalai Lama's fortunes with world leaders seems to have waned in recent years, presumably due exclusively to rising Chinese pressure on foreign economies. To see more, check out this article,
No One Likes the Dalai Lama Any More
, which includes the following graph from
Foreign Policy
: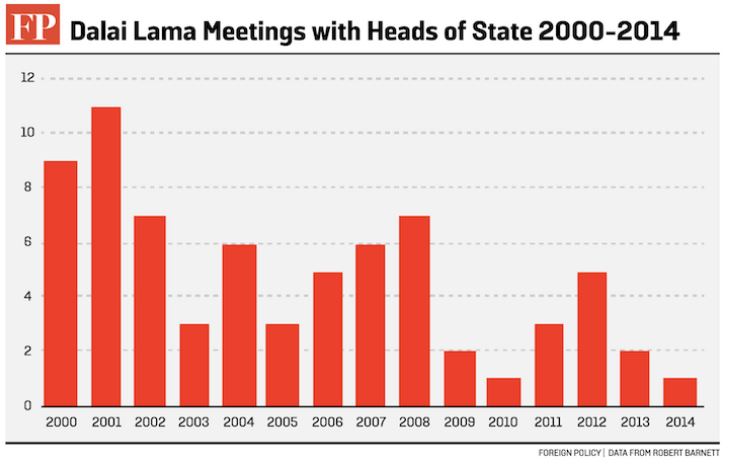 Apparently, the Dalai Lama does still have at least a few friends. About the Dalai Lama's silver anniversary celebration guests:
Ms. Jody Williams is the founding coordinator of the International Campaign to Ban Landmines (ICBL), which was formally launched by six NGOs in October 1992. The Nobel Peace Prize 1997 was awarded jointly to International Campaign to Ban Landmines (ICBL) and Jody Williams "for their work for the banning and clearing of anti-personnel mines".

Ms. Shirin Ebadi was Iran's first female judge. After Khomeini's revolution in 1979 she was dismissed. Ebadi opened a legal practice and began defending people who were being persecuted by the authorities. In the year 2000 she was imprisoned herself for having criticized her country's hierocracy. She took up the struggle for fundamental human rights and especially the rights of women and children. The Nobel Peace Prize 2003 was awarded to Shirin Ebadi "for her efforts for democracy and human rights. She has focused especially on the struggle for the rights of women and children".