The Rubin Museum of Art in New York City is hosting Sharon Salzberg and other teachers from the New York Insight Meditation Center this month and next to teach mindfulness and discuss intersections between meditation and art.
The Rubin's PR and Marketing Manager Robin Carol writes, "The practices of meditation and art have long gone hand in hand, and art itself is often described as a meditative experience. Today, the Rubin Museum of Art is launching a weekly lunchtime Mindfulness Meditation series, where visitors can learn from expert meditation teachers while being inspired by art."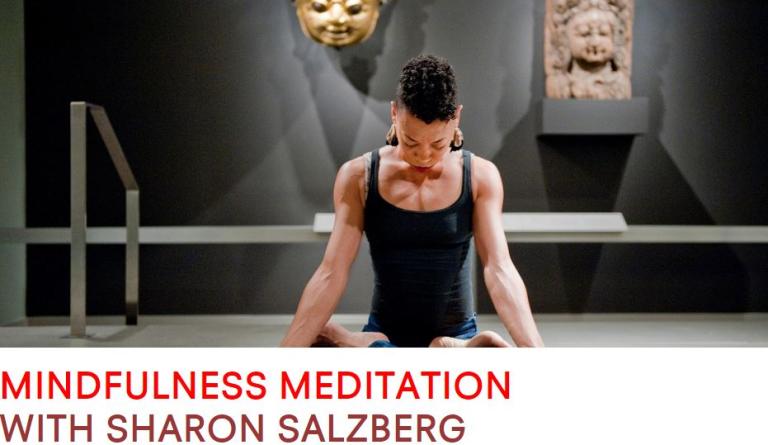 They have compiled a list of five well-known artists who meditate, including David Lynch and Yoko Ono (both practitioners of Transcendental Meditation), Marina Abramović (creator of her own "Abramović Method), and Leonard Cohen and Jack Kerouac (both practitioners of Buddhist meditation, Cohen spending time as a Zen monk).
There they quote Cohen from an interview with The Guardian, saying about Zen meditation: "If you sit there long enough, you run through all the alternative ways the events in your life could have turned out. After a while, the activity of thinking, that interior chatter, begins to subside from time to time. And what rushes in, in the same way that light rushes into a room when you switch on the light, is another kind of mood that overtakes you."
Meditation, in particular mindfulness, grows out of early Buddhist teachings and has been secularized to varying extents as it has entered the modern western spiritual landscape. Today it has gained favor with artists, athletes, educators, business-people, and the military, sparking intense discussions and debates about the extent to which it must remain seated in its ethical and philosophical religious  framework in order to truly work (and what it means for mindfulness to 'work' is itself debated).
Just how mindfulness works for artists is bound to be a very individual process, but artist, author and educator Steve Saitzyk sums up part of the process like this:
Developing a mindfulness meditation practice teaches us how we can place our mind where we want it to be. It helps us find that psychological space in which to land so we can begin [making art].  Meditation could be seen as a more efficient and less stressful way of arriving at a starting, or restarting, point. It provides the mental space for insight to arise and be recognized as such. If our heads are constantly filled with stuff, there is little room for something new and inspirational to take form. This increased awareness is the natural outcome of practicing mindfulness meditation. Meditation also helps us with our viewing process so we can see our work with fresh eyes and even glimpse how others might perceive the result of our creative process.
More philosophically, Saitzyk continues:
For the most part, I feel that the Western approach to art and art making over-emphasizes self-expression and narrative. A Buddhist or meditative approach examines this by posing the question: What is the "self" that is being expressed? Is it ego, or what? A meditative approach advocates that we would be best served if we focused less on the "self" and more on the expression part of the creative process. Such an approach is called pure expression rather than self-expression, because one has learned through meditation how to let go of the relentless self-referencing, self-dialoging, self-consciousness, self-criticism, and so on, for at least a few moments, in favor of being relaxed, present, tuned-in, and responsive. Which, by the way, is not all that easy to do, but meditation sure helps.
So perhaps a key to artistic creation is simply getting one's 'self' out of the way so that creativity can flow. This would bring explanations of how mindfulness works for artists quite close to how it works for a wide range of other people and in other aspects of life. If you're a meditating artist, comment below with how meditation fits into your creative process. Also, give us your list of a "top 5" meditating artists (this can be done by artists and non-artists alike). As for myself:
Top 5 meditating artists:
5. Jeff Bridges (Zen and Transcendental Meditation): aka 'the Dude' and co-author with Zen teacher Bernie Glassman of "The Dude and the Zen Master." Watch them in conversation with my good friend Daniel Clarkson Fisher here:
4. Michelle Yeoh (Buddhist):
world renowned actress
as well as the executive producer of
Pad Yatra: A Green Odyssey
(2012). When asked about how Buddhism might have influenced her in her role as Aung San Suu Kyi,
she responded
, "
We can be born Buddhist, but we have to practise to be a good Buddhist. I was asked: 
"How can a mother choose to stay in the country and to be separated from her children?"
But as a Buddhist, your family is not blood-related, the whole world is your family. It is enlightment that you practise upon. It is suffering, but Buddhists do not relish in suffering. Through true suffering you understand what is the goodness that comes beyond it. You gain a slightly better understanding of compassion, of how to let go, it is not about revenge or retribution. So, Daw Suu and me having that same philosophy did help me tremendously." See a peak at Pad Yatra:
3. bell hooks (Zen / Christian): longtime activist, feminist, and author, bell hooks writes of an experience giving a talk on Buddhism in a large auditorium on a Friday night: "Yet when the time came the seats were filled. And it was all about Buddhism. It was a truly awesome night. Sacred presence was there, a spirit of love and compassion like spring mist covered us, and loving-kindness embraced me and my words. This is always the measure of mindful practice—whether we can create the conditions for love and peace in circumstances that are difficult, whether we can stop resisting and surrender, working with what we have, where we are." She discusses her works in depth at C-Span here (search the transcripts and click on selected passages to hear her talk about Buddhism and her spiritual practice).
2. Herbie Hancock (Nichiren Buddhism): discovered Buddhism in the early '70s after his bassist, Buster Williams, played an opening solo that Hancock would later describe as "magical… so full of inspiration… And I could tell the whole band woke up, and there was some energy that was generating from Buster." After discovering that Williams was a Nichiren Buddhist, Hancock checked it out andis quoted as saying "I said, This sounds like what I always believed in anyway. I thought I was the only one." [read more] Watch Hancock talk about Buddhism and Creativity:
1. Leonard Cohen (Zen): A man of endless fascination, in both his personal thoughts and life as well as his music. Revisiting his days as a Zen monk at Mount Baldy, we read:
"It was Buddhist boot camp, grim, with all these broken young people trudging through the snow in walking meditation at three in the morning". Monks hit meditators with sticks if they dozed off… [There Cohen] had his own WC and coffee machine and could go and listen to CDs in his jeep. Roshi granted him a special dispensation to have a coffee and cigarette first thing in the morning. Sometimes he would drive to LA and have Filet-o-Fish at MacDonald's, later washed down with wine while watching Jerry Springer on TV. Back at the monastery, Cohen was able to find time to write, draw and compose music on the synthesiser.
Via the museum's page on the program: "You don't have to be an artist to embrace meditation as a vital tool for brain health. Whether you're a new beginner or a skilled meditator already, you can join expert teachers from NY Insight at the Rubin during our lunchtime Mindfulness Meditation series. Learn more here."