In their latest update, Plum Village of France, Thich Nhat Hanh's home monastery, informs us that Thay has been transferred to UCSF (University of California, San Francisco) Medical Center for further rehabilitation after his stroke last November. You can read accounts of his continued progress here:
According to the latest account, it was Thay's own choice to intensify his rehabilitation program, which brought him to the US on July 11th. The new team of US doctors has suggested a 5-6 month period of intensive therapy with the latest technology and specialists.
The release also notes that while he is able to communicate, he cannot yet speak:
Thay's diligence and determination are a powerful message for us all. Thay's heart and mind will never abandon us or the practice. Although he cannot speak to us, he continues to transmit the essence of the practice. He continues to be with his beloved community, even in times of difficulty.
In addition to passing on Thay's latest health information, the Monks and Nuns of Plum Village have established a donation page to help cover the costs, expected "to be in the hundreds of thousands of dollars."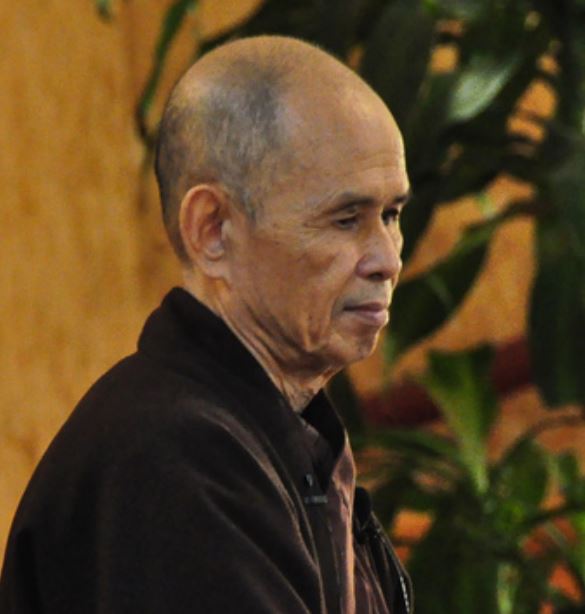 And while the latest news is doubtless great to hear for Thay's students and admirers of his work, I have heard and read remarks from many over the past six plus months about why students would seemingly cling so tightly to a teacher or why an elderly Buddhist master (Thich Nhat Hanh is 88) would cling so tightly to life in this world.
When I have responded to such misgivings, it has usually been to note that all involved are still human, or to question the use of the term 'clinging' here. In Buddhist thought, motivation is key, and yet guessing about or supposing to know the motivations of others is a fool's game. Perhaps those close to Thay are indeed clinging to him as much as devoted followers of any religious leader. Or perhaps they instead see his message that has reached so many people around the world and wish only to see that message continue in the strongest way possible, through his continuing to teach and write.
My sense is that too many people have seized on the message of non-clinging (which is a good and central message within Buddhism) and tried to apply it here too forcefully. Like all teachings, it should be taken with some nuance. When driving on a windy mountain road, a good Buddhist clings firmly to the steering wheel.
Perhaps Thay and his students see his journey as not quite finished and so hold on and work to see it through.
~
Another issue arising specifically from this update is the way healthcare is paid for around the world. As we heard of Thay's hospitalization, his recovery, the doctors and nurses around him, and so on, no mention of needing funds was ever made. Now that he has been in the US for 3 days, "hundreds of thousands of dollars" are expected to be paid out in the coming months. Perhaps this is one of those curves on Thay's life journey: using his recovery time to show us Americans how crazy our health care system continues to be.
Having lived much of the last 5 years in England, I watched with some dread the rise of medical bankruptcies in the U.S., fed by a system of uncontrolled and unreasonable costs. Traveling around India and Thailand, I could see why medical tourism (traveling from one country to another for cheaper medical procedures) has become a major industry lately, but I've never heard of anyone coming to the US for treatment, let alone rehab.
As a 2008 story on NPR notes:
In 2000, health care experts for the World Health Organization tried to do a statistical ranking of the world's health care systems. They studied 191 countries and ranked them on things like the number of years people lived in good health and whether everyone had access to good health care. France came in first. The United States ranked 37th.
Physicians for a National Health Program further noted:
The French health care system was rated the best in the world by the World Health Organization in 2001. The American health care system ranked 37th. In 2004, France spent 10.5% of its gross domestic product on health while the U.S. spent 15.4%. Again, in 2004, the last year for which figures are available, the per capita total expenditure on health in U.S. dollars was $3,464 in France but $6,096 in the U.S.Analyzing the French system might provide some ideas for a solution to the current health care crisis in America.
Both of those are seven years old, but not a lot has changed: TIME: U.S. Healthcare Ranked Worst in the Developed World, June 2014 (read full report in .pdf here). Curiously, France has dropped to 9th there, while US has moved to dead last at 11 – as only 11 nations were compared. The story is complex, of course, as one Business Insider article puts it: "searching for the "best" healthcare system in the world may be futile — there's simply too many variables to produce meaningful results." Yet anecdotes like this one from a woman who gave birth in France speak volumes about our different systems.
Let us hope for a continued steady recovery for Thay.
But let us also think about all the other stroke victims – and others in need of medical care – in the U.S. who won't have access to followers around the world to help cover costs. And let us think about moving the system in the direction of reason and justice.
For as we read in the story of "The Monk with Dysentery" people must take care of one another. When the Buddha found a monk sick and nobody attending to him, he immediately took up the task himself. He then admonished the monks:
Monks, you have no mother, you have no father, who might tend to you. If you don't tend to one another, who then will tend to you? Whoever would tend to me, should tend to the sick.