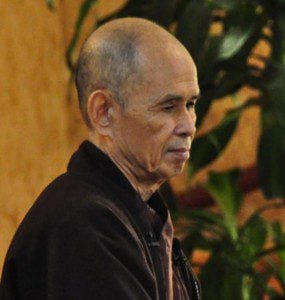 UPDATE: As happened back in November, an unofficial update seems to have gone out and made the rounds before Plum Village's official health update for Thay.
This time, however, the message is the same: Thich Nhat Hanh continues his progress in the hospital.
Second UPDATE: the earlier, unofficial update from wkup.org, which is listed as an initiative of Plum Village, has been removed. The later official update remains in place at plumvillage.org.
~
An announcement dated February 3rd and posted on Tuesday the 17th is available at the site wkup.org (link now goes to a 404 page). In the update, Sister Chân Không, Thich Nhat Hanh's first fully ordained monastic and director of his humanitarian projects, tells us that Thay has been relocated to a rehabilitation center in his hospital where he has been able to communicate with staff using eye gestures and his left arm.
There, he is undergoing physical therapy to build strength in his back and legs, along with acupressure and acupuncture treatments.
One of the recent happiest moments for Thay was when he was with the speech therapist and enjoyed a quarter cup of tea! When Thay was finally able to hold his cup of tea upright, we declared, "Now we shall have a tea meditation!" Thay agreed and raised his hand as if about to speak and motioned for one of the attendants to give the therapist a short orientation on how to drink tea mindfully. Then Thay and his speech therapist had a sip of tea. While the therapist observed that Thay was swallowing properly, Thay also looked into his tea and smiled to her. Then he put his hand on his heart and the attendant explained that Thay was encouraging us to bring our mind back to our body and to look more deeply into and really enjoy the taste of tea and people around us.
Thich Nhat Hanh has been in the hospital since his severe brain hemorrhage on November 11, spending over a month in a coma before regaining full consciousness early this year. The update concludes:
The path of healing for Thay is still long, but we are certain that with the love and the support sent by all of his friends and disciples and with the energy of Avalokiteshvara, Thay will overcome the difficulties.

Thank you so much for all the beautiful emails, prayer services, letters, post cards and adorable drawings by children. Our community also appreciates deeply the donations sent to support us with expenses of housing and food for the monastics and attendants who are caring for Thay.
Read the full update here. at plumvillage.org.