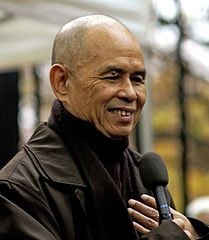 Following on from a series of ever–improving health updates, Plum Village announced today that Thay has continued to heal, spending time outdoors in recent weeks and this week returning to his hermitage at Plum Village:
Thay expressed his clear wish to return home, and arrived on Friday April 3, in time to enjoy the beautiful magnolia blossoms and the first spring leaves as they unfurl. We are all very glad that Thay can come back to his spiritual home, where his devoted team of monastic attendants are continuing to support him and care for him 24 hours a day, under the guidance of visiting doctors and nurses.

We hope that in the nourishing and peaceful environment of Plum Village, and with the support of on-site physical therapy and speech therapy, Thay will have favourable conditions to treat his hemiparesis and make progress in swallowing and recovering his speech.
The monks and nuns went on to thank all those who showed support to Thay since his stroke last November.
Read the full announcement here.