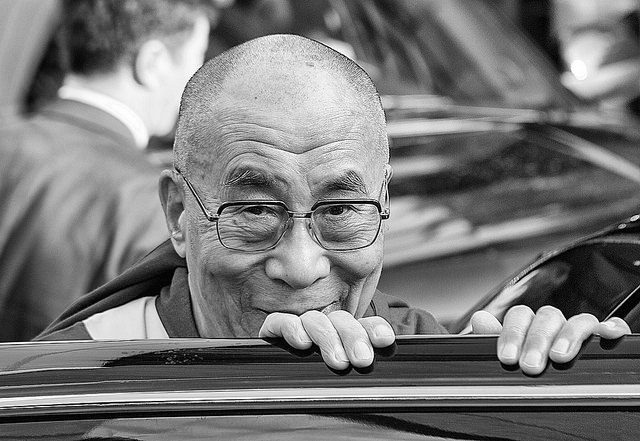 In an interview with the German media outlet DW yesterday, the Dalai Lama clarified his earlier comments on violence and the Paris attacks. When asked about those attacks, he suggested that the violence we see today is a spillover of the violent 20th century, but:
If we emphasize more on non-violence and harmony, we can herald a new beginning. Unless we make serious attempts to achieve peace, we will continue to see a replay of the mayhem humanity experienced in the 20th century.
He re-emphasized the shortsightedness of terrorist acts and clarified his earlier statement about prayer:
We cannot solve this problem only through prayers. I am a Buddhist and I believe in praying. But humans have created this problem, and now we are asking God to solve it. It is illogical. God would say, solve it yourself because you created it in the first place.

We need a systematic approach to foster humanistic values, of oneness and harmony. If we start doing it now, there is hope that this century will be different from the previous one. It is in everybody's interest. So let us work for peace within our families and society, and not expect help from God, Buddha or the governments.
This message of personal responsibility, inner work, and community-focus has been offered by the Dalai Lama and other Buddhist teachers for centuries. And it is worth restating his words in the wake of the 9/11 attacks, which have proved prophetic:
Terrorism cannot be overcome by the use of force because it does not address the complex underlying problems. In fact the use of force may not only fail to solve the problems, it may exacerbate them and frequently leaves destruction and suffering in its wake. Human conflicts should be resolved with compassion. The key is non-violence.
President Obama yesterday echoed this sentiment in part when speaking of his policy in Syria and Iraq, saying, "This is not, as I said, a traditional military opponent. We can retake territory. And as long as we leave our troops there, we can hold it, but that does not solve the underlying problem of eliminating the dynamics that are producing these kinds of violent extremist groups."
However, the nonviolence taught here does not come at the expense of self-defense. In an interview for the 2006 movie "10 Questions for the Dalai Lama," he is asked pointedly, "At what point do you give up nonviolence, and at what point do you confront something that is truly evil in the name of doing what's right?"
The Dalai Lama responds:
Basically, the nonviolent method is the best one or the real method to solve the problem. But because of some immediate danger -something happen- so protect oneself in order to deal with that problem next week. If you die today, then no one perceives it that way… So I think [there can be] some measure for protecting oneself. Then, maybe, as you mentioned, there is something or someone who is going to kill, going to abuse, then, if circumstances suggest there is no other way, then, maybe, I think just try to hit back. But this is just for protection.
Yet he concludes again on a non-violent note, saying that in today's interconnected world, "the destruction of your so-called enemy is actually the destruction of yourself."