As reported in the Hindustan Times, the Dalai Lama's response to the recent attacks in Paris was concise and to the point:
Violence is a reaction by short-sighted, out-of-control people. At 81, I believe it cannot be resolved through prayers or government help. We have to begin the change at individual level and then move on to neighbourhood and society.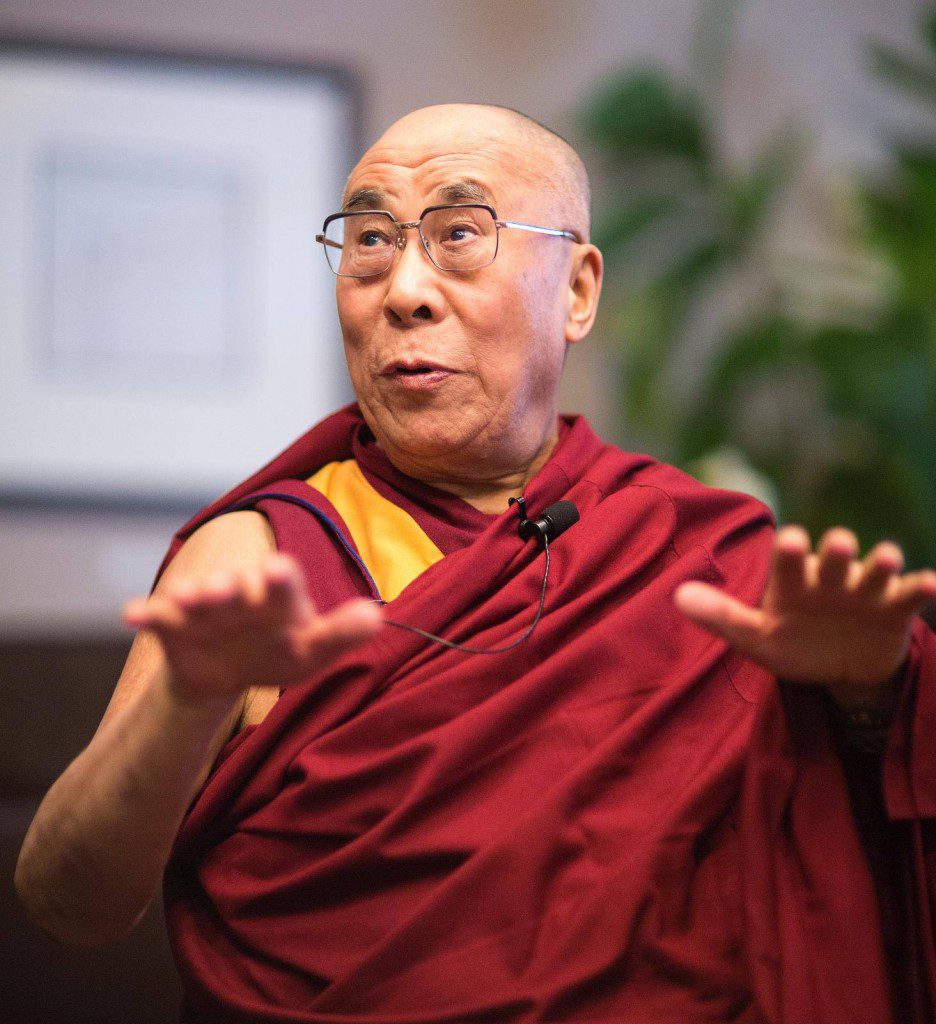 The Dalai Lama, winner of the Nobel Peace Prize in 1989, has long advocated non-violence in conflicts across the world, including in his homeland of Tibet. As he wrote after the 9/11 attacks:
Terrorism cannot be overcome by the use of force because it does not address the complex underlying problems. In fact the use of force may not only fail to solve the problems, it may exacerbate them and frequently leaves destruction and suffering in its wake. Human conflicts should be resolved with compassion. The key is non-violence.

Retaliatory military action by the United States may bring some  satisfaction and short-term results but it will not root out the problem of terrorism. Long-term measures need to be taken. The US must examine the factors that breed and give rise to terrorism. I have written to President Bush urging him to exercise restraint and not to seek a brutal revenge for the 11th September attacks. I expressed my sympathy but I suggested that responding to violence with more violence might not be the answer. I would also like to point out that to talk of nonviolence when things are going smoothly is not of much relevance. It is precisely when things become really difficult, urgent and critical that we should think and act nonviolently.

read more here.
It's important to note, of course, that the history of Buddhism is far from free of violence. The BBC hosted an excellent discussion of Violence and Buddhism in 2013 well worth a listen if you haven't already. And for other Buddhist responses to violence, posted on the 5-year anniversary of 9/11, check here.
A humble experiment in right livelihood/opportunity for generosity: This post seems to be going particularly well (huge thanks to all who have read and shared it), and if everyone who has read it were to give $1, I could comfortably dedicate 3-4 months full-time to writing, both here and in developing some larger projects.

Most people won't, which is absolutely okay. I offer this work freely because I care about big ideas, particularly in Buddhism and ethics and I enjoy sharing and discussing what's going on in Buddhism today – and I do get a humble portion of the revenue from the ads that also support this site as a whole. But I would really love to be able to dedicate more time to this. If you feel moved to offer a bit, just click here:

Again, this is an experiment, but it doesn't hurt to ask. Oh, and/or like this site on Facebook, and follow me on twitter. And again, Thank you!
Read more here: The Dalai Lama clarifies his response to the Paris attacks: praying is okay, but we need non-violence, humanistic values, and harmony