Right off the bat, I should caution you that not much has changed since the last poll, and that once again our poll data is small and was not scientifically gathered. That said, a few new features this month add depth, and hopefully a touch more credibility, to the data gathered. For starters, respondents were asked if they would like to (optionally) provide a means of contact for follow-up questions, and to (also optionally) comment on why they've chosen the candidate they selected. 161 out of 317 (just over 50%) did add a comment. We'll see some of those next time. And 49 provided a form of contact information.
I'll follow this up with a more detailed post, but right now I just want to get data out there. So here we go: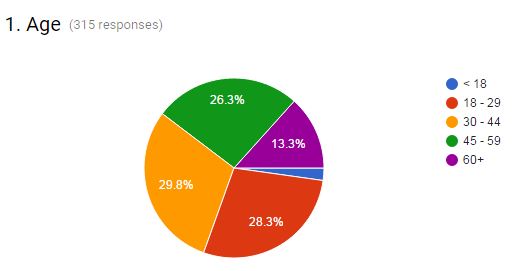 This represents a much younger and more age-balanced respondent group than we had last time, where over 60% were 45 or older.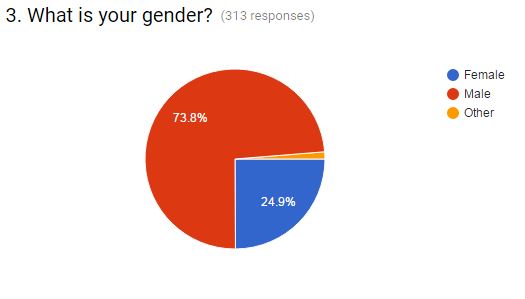 But unfortunately, while we balanced out in ages, we skewed more toward male this month (last month was 64% male and 34% female).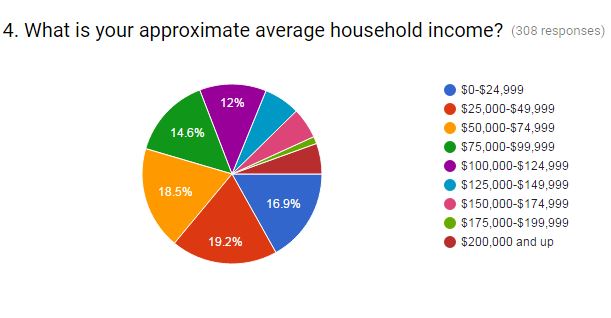 This breakdown is very close to last month's, with slightly fewer under $50,000 this time and more in the $50,000-100,000 groups.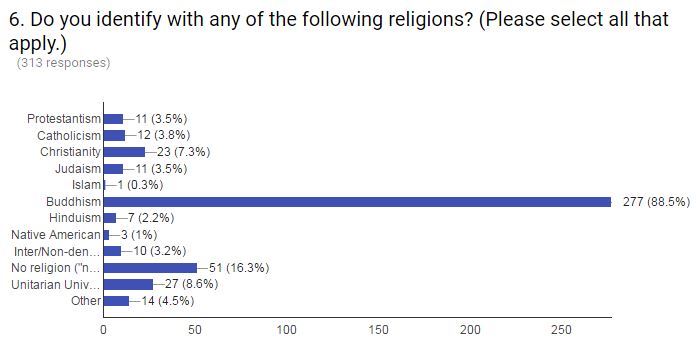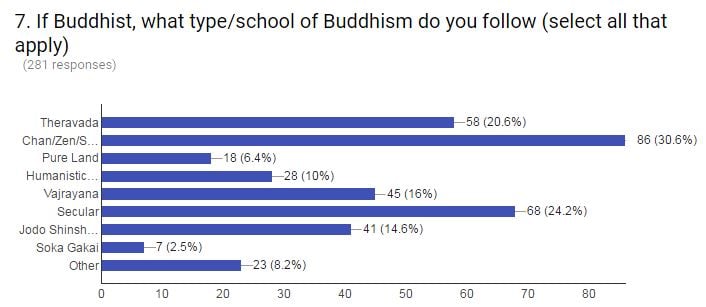 I'll have a look at the (Other) category this week. Perhaps a significant number are in one particular group that could be added. The number of people who considered themselves "Pure Land" as well as "Secular" Buddhists this time nearly doubled, and Soka Gaka is up to 7 from 1 last month. Other categories remained roughly the same.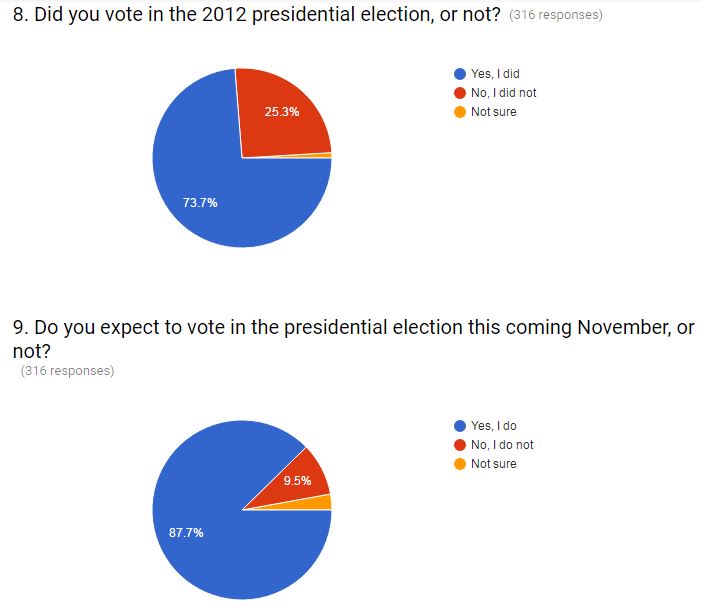 We had many more respondents this time who did not vote in the last election (25.3%, up from 13.6% last time). It is possible that this is due to more young voters involved this month.

This is a new question this month, and it helps point to the fact that the poll reaches mostly converts and sympathizers. I can also pull out each of these groups for further analysis if anyone is interested. Any guesses which group is more likely to go for Clinton? Sanders? Trump?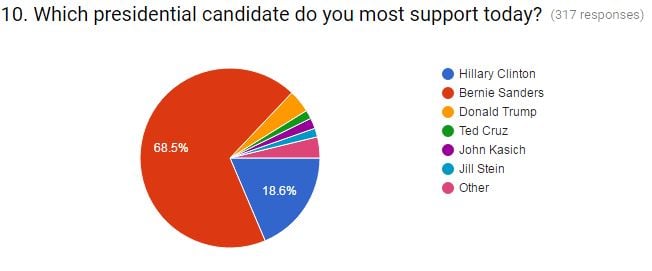 Finally, the question we've all been waiting for. This shows an increase in support for Bernie Sanders over last month's poll and corresponding decrease in support for Hillary Clinton. Donald Trump has increased significantly in support as well, with 13 supporters vs 5 last month (Marco Rubio received 7 votes last month and Ben Carson received 2, so it is possible some of their supporters have gone to Trump). Ted Cruz is holding at 5 supporters. John Kasich has the highest proportional increase for the month, with 6 supporters this month vs 2 last month.
Jill Stein had four supporters in this poll, actually down one from last month despite being added to the list of possible choices. Libertarian Gary Johnson was given four write-ins this month, so he will be added to the list of names in next month's poll. Gloria La Riva was written in once (her name was misspelled by the respondent, hence the mistake on some of the images below).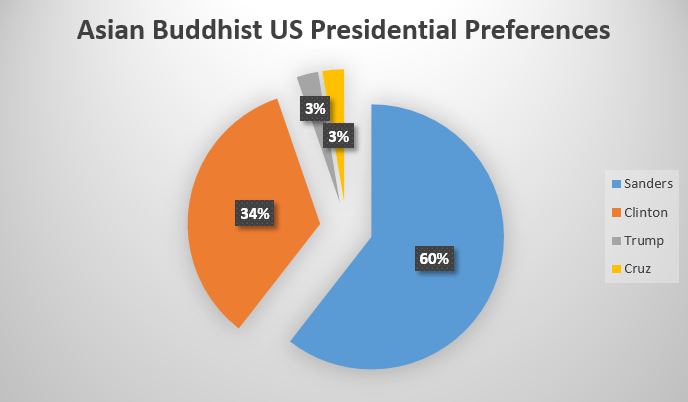 This month we had 38 Asian respondents, up from just 14 last month. Those identifying as mixed race/ethnicity selected Sanders (9 votes) overwhelmingly, vs just one vote for Clinton and one write-in for Gary Johnson. Hispanic/Latin@ voters gave Clinton the best response proportionally, with six votes for Sanders, five for Clinton, and one write-in for Johnson.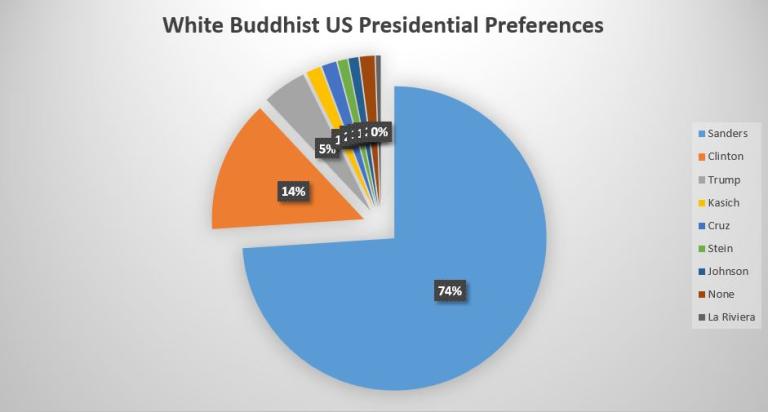 White voters this month showed noticeably larger support for Sanders than last month (64%) and a large decrease in support for Clinton (down from 24% last month).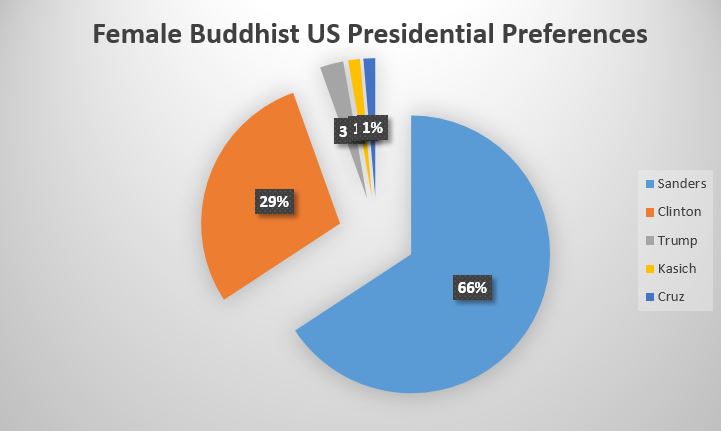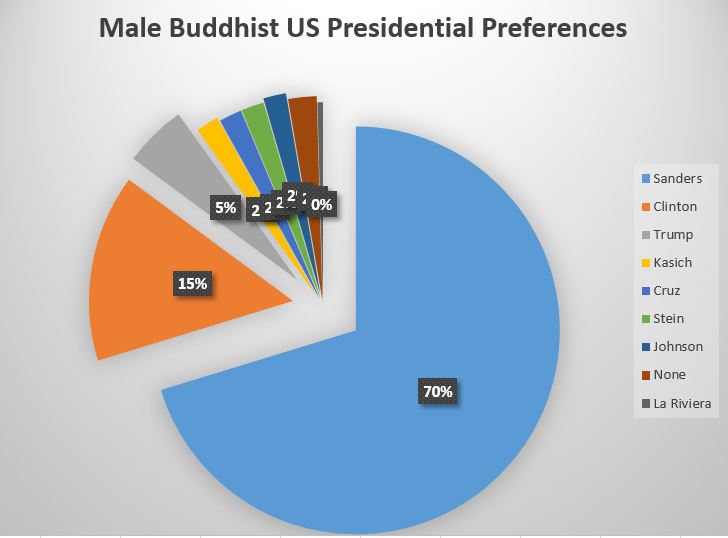 * Again that should be "La Riva" on this and one image above. Apologies for the typo.
Overall by gender, Clinton did better with women, getting 29% of their support vs just 15% of the men polled. While male candidates were less likely to support Clinton, they were the only ones to select Jill Stein and write in Gary Johnson and Gloria La Riva.
That's all for now. As we see from the breakdowns given, there is still overwhelming support for Bernie Sanders among Buddhists who responded. Further details and discussion to come. As always, your comments, questions, critiques, etc are welcome.
Stay in touch with American Buddhist Perspectives on Facebook:
Become a supporter of American Buddhist Perspectives
"Society is welded in unity with care and concern for one another when generosity is exercised with a warm sense of personal involvement." – Bhikkhu Bodhi
---
Keeping up American Buddhist Perspectives takes a *yuge* amount of time. You can show some love by buying me some coffee – the fuel with which this and the rest of my life is powered.
No monthly donations, just give when you can and feel like it.