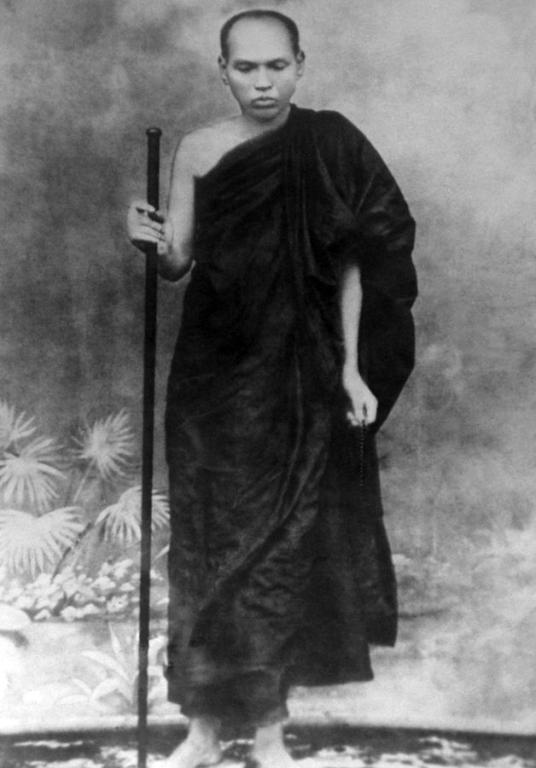 One of my first exposures to extended Vipassana practice was through the voice of S.N. Goenka, who I was fortunate enough to see speak in Missoula, Montana around 2002. His clarity and focus on life and practice holds with me to this day. Goenka, an Indian businessman who was born in Burma and who became a serious Vipassana practitioner late in his life, is one of the foremost popularizers of Buddhist practice around the world today.
Goenka's teacher was U Ba Khin.
U Ba Khin's teacher was Ledi Sayadaw. Ledi Sayadaw is widely renowned as one of the most important figures in the early modernization of Theravadin practice; most importantly introducing the practice of Vipassana to lay people. One of his greatest achievements was a work called The Summary of the Ultimates, which made the highly systematic Abhidhamma (Higher Teaching) accessible to the masses for the first time.
As Ledi writes in the autocommentary, the poem made possible awakening "in this very life." That term would become a hallmark of modern meditation—much used in insight meditation circles—as can be seen in the title of an influential book by Sayadaw U Pandita.4 The idea of the possibility of awakening in one life—indeed, the possibility of awakening at all, never mind among the laity, was revolutionary. Up to this time, few monastics meditated, and almost no laypeople. – Eric Braun via the 2016 Harvard Bulletin
In his work 
The Requisites of Enlightenment
, Ledi Sayadaw covers the 37
bodhipakkiya dhammas
:
The four foundations of mindfulness
four right efforts
four bases of success
five controlling faculties
five mental powers,
seven factors of awakening
eight fold noble path
The audiobook, which can be downloaded as a whole or in discreet chapters, is over 4 hours in length. It is also available in text for free on kindle. For practitioners interested in Theravadin Buddhist practice, especially as it has been specially formulate for lay men and women in the 20th century, this is an excellent resource. From Pariyatti: