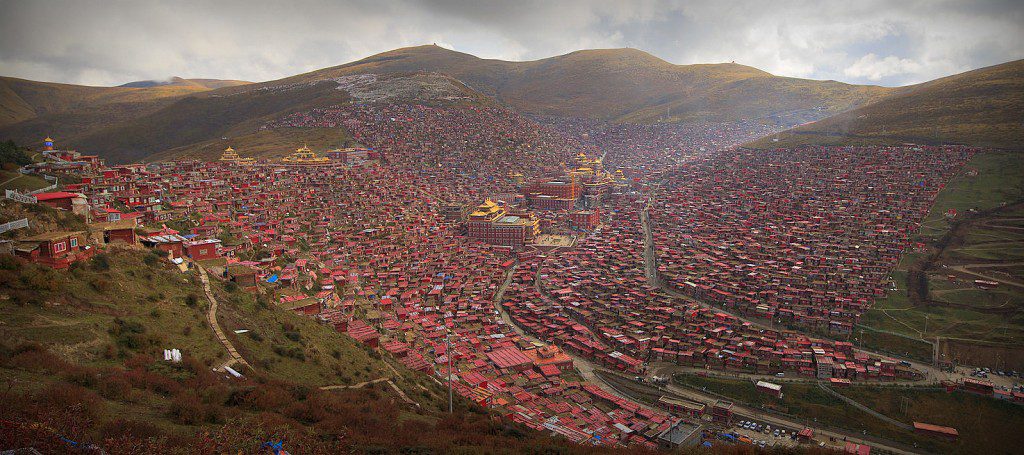 Phayul news service reports that two more Tibetan nuns have taken their lives due to the destruction of the city of Larung Gar in eastern Tibet (Western China). Authorities there claim that the expanse of new structures is a fire hazard and that the rapid growth of the city has not been officially permitted. I wrote this last month:
This is Larung Gar a year ago. It is a vast monastic complex in eastern Tibet (in China's Sichuan Province) housing as many as 40,000 Tibetan Buddhist monks and nuns (10,000 being a more likely number). Recently, it has come under scrutiny by the Chinese government and demolitions have recently begun, threatening up to half of the monastics living there.

The town has grown rapidly, from just a handful of disciples of the Tibetan teacher from the Nyingma tradition, Khenpo Jigme Phuntsok, in the 1980s to its current size. It currently attracts Buddhists from both Tibet and China as a site for the study and practice of Buddhist teachings. Radio Free Asia has one photo of an unspecified hillside, now mere brown rubble, claimed to have once been home to dwellings like those shown above; BBC has several more images of the destruction. They report that cell phone and internet use has been curtailed by authorities since the destruction began July 20th. Armed security forces have been present to quell any kind of formal protest, and foreigners have been denied access to the area. This has led to the blackout of information on the suicide, which occurred as demolition began.
Now two new deaths have been reported and one attempted suicide:
The two slain nuns – Sengma from Sichuan Province's Dowa village in Dzamthang County and Tsering Dolma from Mewa Township in Marthang County in Sichuan's Ngaba Tibetan Autonomous Prefecture – have reportedly committed suicide, RFA reported. RFA's source mentioned that Tsering Dolma, "left behind a note expressing her distress at the demolition and complaining that the Chinese will not let them live in peace" and that the ordeal left her depressed and troubled, eventually leading [her] to kill herself.
For those in Australia, there is a wonderful short interview with Prof John Powers on the plight of the Tibetan people in occupied Tibet. Below is an SBS (Australia's Special Broadcasting Service) documentary: Bulldozing Tibet. As you'll see, the destruction of Larung Gar follows a pattern of destruction and displacement that goes back decades in China's continued occupation of Tibet.