What can I say about the eclipse – the experience of totality?
When I first looked into the coming total eclipse of the sun, I heard that it would be epic, life changing, a "religious experience" and so on. And I heard this not from hippies or millennials but from scientists, nerds, good skeptics with otherwise sober and sane views of life.
I made my plan to see it, dragging my partner Beth along, quite willingly of course. Coming from Seattle and knowing how horrible traffic along the I-5 corridor is on typical days, I set a course for central/eastern Oregon. I saw that the Painted Hills would be smack in the center of totality, along with stretches of National Forest further east. I followed news reports and warnings, coming to realize that about every camping spot and/or other "attraction" would be filled to the brim. So we packed up my Subaru Outback with a variety of car-camping and backpacking gear – 5 gallons of extra water and 2 gallons of extra gasoline, ready for whatever adventure might be ahead.
The traffic horor reports were wildly exaggerated (one big jam was caused by at-the-gate traffic at a festival), other reports talk of "an extra hour" to drive 200 miles – hardly gridlock – and all of this was west of us. Heading down we saw more traffic than one would on a normal Saturday in central Washington and Oregon, but no slow-downs. Coming back, the only delays we faced were a few minutes in a tiny Oregon town where residents were photographing the line of cars passing through, passing over the Umatilla bridge into Washington, which had been reduced to one lane due to construction, and back in Downtown Seattle, which was at its usual 5pm Monday levels.
Worries of massive crowds were also exaggerated (unless you went to that festival or one of the easy-access towns, especially along the I-5). We changed our plans slightly, as we had left Seattle later than planned and didn't want to be searching for spots or setting up after dark. Knowing that we were in the path of totality near Spray, OR, we decided to find a spot sooner rather than later. Several spots along the John Day river looked great – but questionable in terms of legal camping and/or crowds. Consulting the map, I saw that just east of Spray was a branch of the Umatilla National Forest.
From our campsite, just inside the forest, and down a couple windy roads, we saw exactly one other car go by (a fire-fighting rig out on a casual patrol). We heard and saw some traffic on our walks toward the 'main' dirt road in the area, and saw one other campsite on a walk (about 15-20 minutes from ours). We also had the great luck of being relatively haze-free (we saw some smoke to the south, where we had planned to be; I'm not sure if it was thick enough to make much of a difference).
What we did see was: cows, lizards, a rabbit, an owl, a hawk, lots of smaller birds, and a rattlesnake that was way, way, way too close for comfort. We heard coyotes late one night, yipping into a chorus of shrieks, and I spotted one shooting star from the waning days of the Perseid meteor shower.
Though we had camped in a spot that would have been perfectly adequate for viewing the eclipse, the view from one point on our walk was so sweeping and beautiful that we decided to make the hike there on Monday morning. You can get a small sense of that view in the video below, but, as they say, you'd have to be there to really appreciate it.
The partial eclipse began at around 9:10am, with the full eclipse lasting less than 2 minutes at 10:24-5, and the last of the partial wrapping up at around 11:40am.
9:53 am. By this time the slightest dimming of the sun could be seen on the ground around us, and the heat of the early-morning sun was even more noticeably dulled.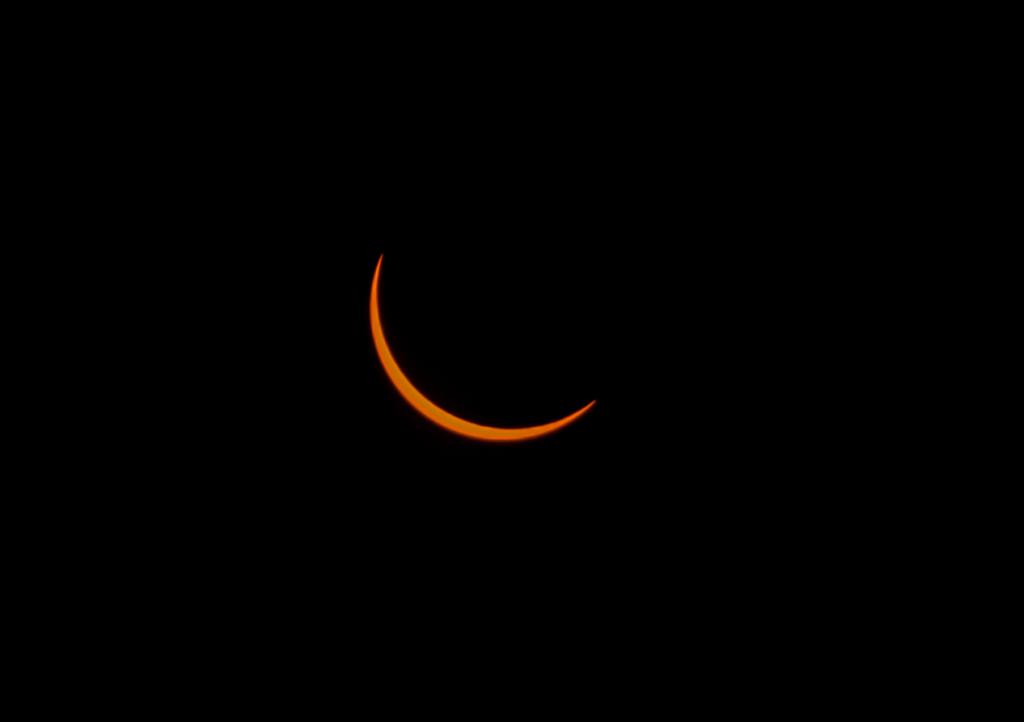 10:22 am. For the last five or so minutes leading to the totality, changes occurred more quickly. The dimming progressively sped up; by this time feeling like a sunset on steroids. A hush fell over the forest around us.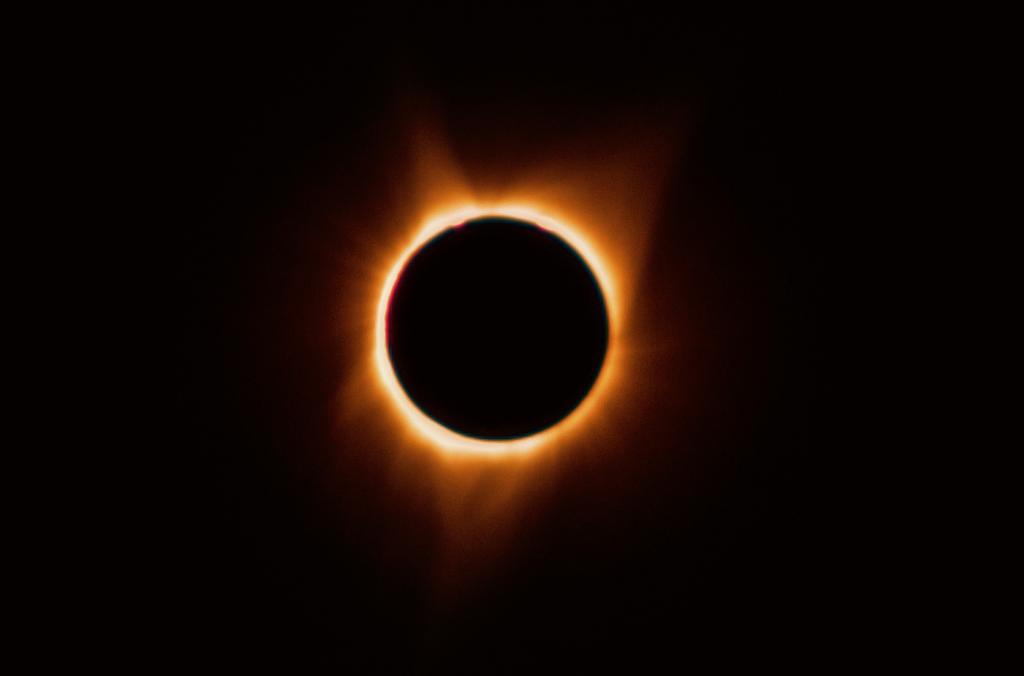 10:25 am. Totality. In the video below you'll see how tiny this was in the sky – just a dot of blackness with a ring around it. Stars came out, crickets chirped.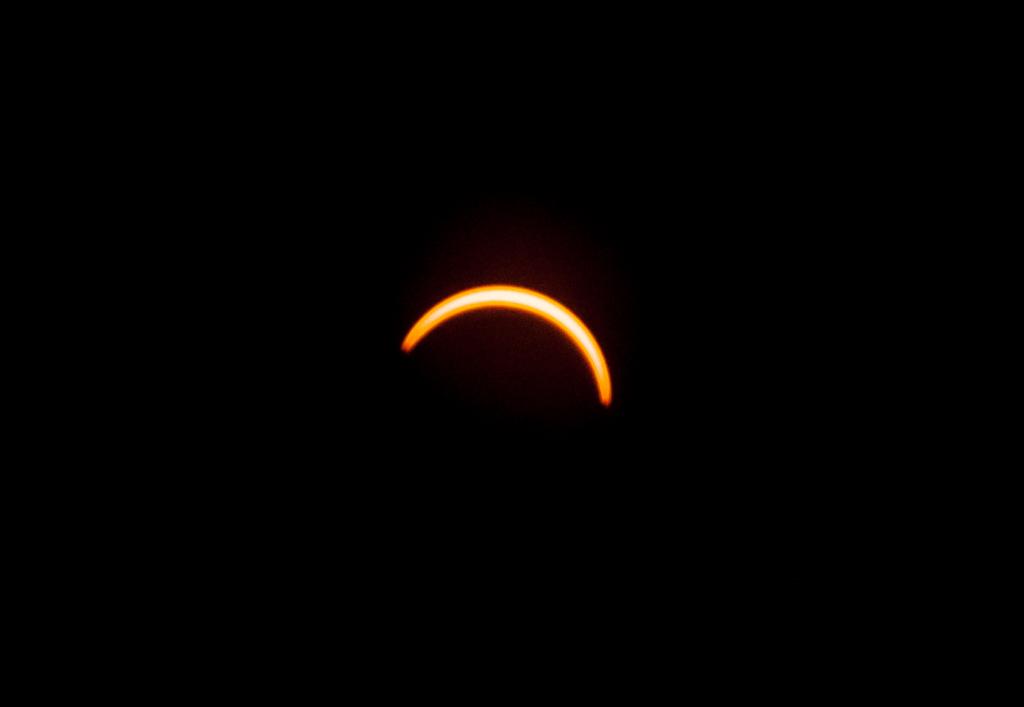 And like that, it was done.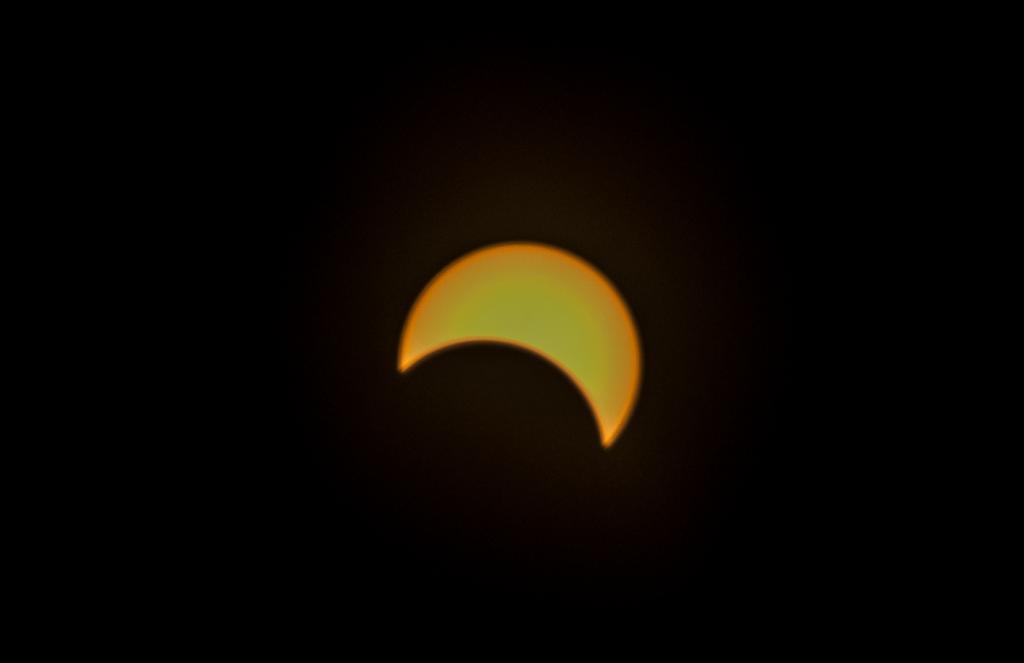 On the eclipse itself: the best thing I could probably tell you is about Beth's reaction.
She'd been pretty mildly interested in the event, I'd say (mostly there to enjoy some adventure and camping and solitude). She, an English major and writer, had laughed at my Solar Eclipse Observing Guide, which told us that "Words alone cannot describe the magnitude and excitement of this rare, once-in-a-lifetime event" and "When rating natural wonders on a scale of 1-10, a partial solar eclipse might be a 7, but a total solar eclipse is 1,000,000."
Hyperbole, for sure. Or so we thought.
But Beth's response, and my own, were indeed quite beyond words. It is far more than just a viewing event. Something happens in the body. Both of us were shaking – a fact I didn't realize until Beth pointed it out to me. She also described an almost-sickness in her belly, followed by a simple sense of 'just being'. And though the temperature had dropped and I'd done little in the way of exertion that I could recall, I was coated in sweat, feeling very similar to what Beth had described, both smaller and greater than 'me'.
Afterward, Beth's first question to me was: "when is the next one?" [hint: July 2, 2019 in South America]
I'd be tempted to say "It's like entrance to meditative absorption" or "it's like falling in love" but such comparisons really do fail us. When my sister asked how they compared to the Northern Lights (she and I saw them together in Iceland in 2015), I felt there was a glimmer of similarity. Checking with Beth, I think we'd agree that a good viewing of the Northern Lights is about 10-20% as powerful an experience as the eclipse totality.
(here's video from the Iceland trip with my sister)
Through it all – in those moments, looking back, and right now, just this: gratitude and wonder.
Support independent coverage of Buddhism by joining a community of fellow learners/practitioners at Patreon.
'Like' American Buddhist Perspectives on facebook.