A reddit user, "seshiro73" has created a Cheat sheet for Mahayana Buddhism focusing on Zen that many will find helpful. The post includes the message: "Feel free to use as you wish. … May all of you be well. :)"
The sheet includes sayings from Bodhidharma, Bankie, Dogen, and the Lankavatara Sutra. It also has key teachings from the Lotus Sutra, the Avatamsaka Sutra, Heart Sutra, Diamond Sutra, and the Flower Sermon (the start of Zen). With the proliferation of teachings found in Mahayana Buddhism and the size constraints of a cheat sheet, the sheets creator obviously had to be selective.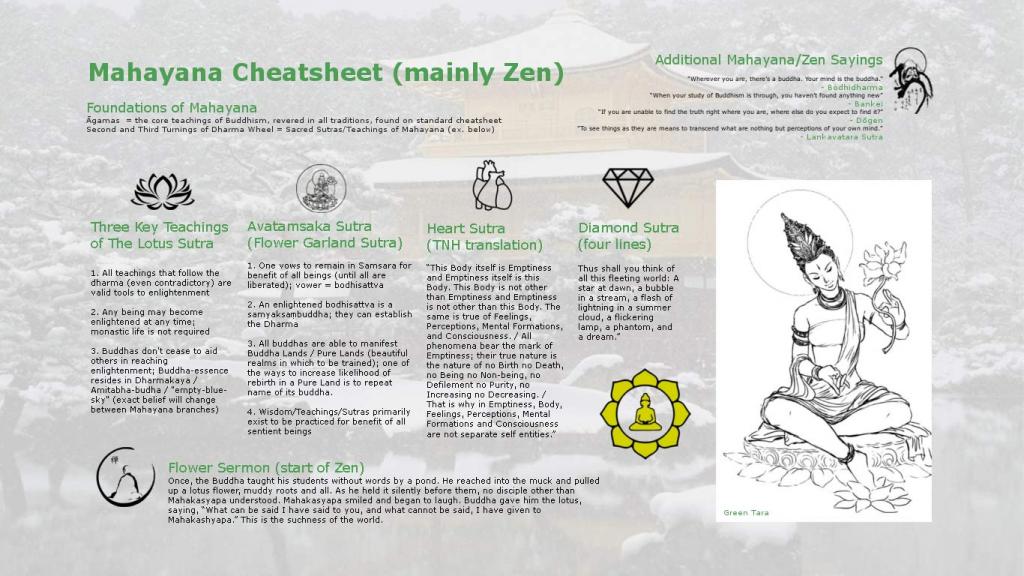 Scholarly Notes
The scholar of Buddhist history will point out that the sheet reflects the Buddhist Modernist core interest in texts and major historical figures. On the other hand, many Buddhists would prefer images, amulets, ritual guides, etc.  A picky scholar might also question any number of aspects of the sheet (e.g. "is the flower sermon really the start of Zen? According to whom? When and where did this notion arise?"). All of this work at deepening understanding, getting behind and beyond the traditional narrative, is excellent.
But it also can come after a student has adequately come to understand this important telling of the story. The cheat sheet will be a handy companion to the cheet sheat focused on early Buddhist teachings found on James Ford's blog here.
The cheat sheet is designed to fit a standard 1366 x 768 desktop wallpaper. I've modified the original to an easy-to-download jpeg file. If the image below is cut off, just click on it and you will go to the image alone or right-click and select 'download image'.
For the larger file size PNG from Reddit, click here and the original post here.
Support independent coverage of Buddhism by joining a community of fellow learners/practitioners at Patreon.
'Like' American Buddhist Perspectives on facebook.