The post, which was taken down after circulating for around 24 hours, caused anger, sadness, and confusion as supporters discussed the immaturity and inappropriateness of the supposed joke. However, as a public posting it was archived and can be found elsewhere online.
Dzongsar Jamyang Khyentse, often addressed with the honorific "Rinpoche" and also known as Khyentse Norbu, is a well known Buddhist teacher, writer, and filmmaker from Bhutan. He caused ripples in the Tibetan Buddhist communities in August when he wrote a rambling 10,000 word-long letter both defending Sogyal Lakar's abusive actions from within the Vajrayana context and questioning the very credentials that Lakar claimed to hold.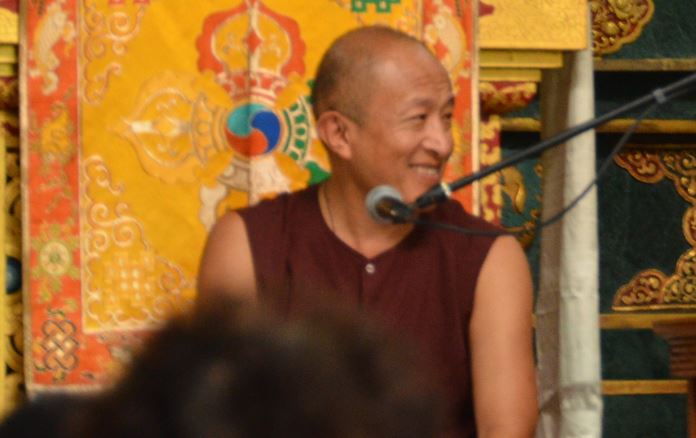 Tendencies to play victim
On Tuesday he posted a 16 page contract (linked below) with this introduction:
I thought this might come in handy for Rinpoches like myself who are not omniscient, not omnipotent, and not well trained; who don't give enough preparatory training on the prerequisites to their students; and who get carried away by their own self-agendas and, from time to time, by their hormones.

MAKE LOVE NOT HEADLINES! SCREW WITHOUT GETTING SCREWED!

Bender and Boner Law has over 70 combined years' experience in the Tibetan Buddhist tradition. We are sensitive to the special needs of Gurus and Rinpoches who desire to save all sentient beings yet also wish to have fulfilling sex lives.

Let one of our ironclad consent forms protect you from fears of future litigation. Our in-house psychologists are on call 24/7 to assess your potential partners for any unsuitable moral quirks and/or tendencies to play victim.

If you've already made a few mistakes, (and who hasn't?), don't worry! We can still save your reputation, your assets, and your ass. Free initial consultation. Call us before it's too late! See our website at http://www.theyconsented.com
One response to the contract read, "Do you realize you're associating this with Buddhism and kids are viewing this with confusion. Not as a joke. If this stays up I'm done man." (emphasis added) Another commenter elsewhere suggested that for abuse victims, seeing such a thing publicly posted by a Tibetan Buddhist teacher might set them back in their healing process.
Is there Consent?
Another wrote, "It is none of my business. After all they are having sex with adults who are capable to give their consent. There are some students who do anything to get some favors or privileges out of the Rinpoches. And if they don't get what they want, they turn against their
Rinpoche."
However, in a White Paper on Clergy Sexual Misconduct and Misuse of Power, Katherine Wiedman, Ph.D. and Leslie Hospodar of An Olive Branch write:
… Since clergy have a responsibility to set and maintain appropriate boundaries, those who are violated by clergy's inappropriate sexual behavior are not to be blamed even if they initiated the contact.

The term 'consenting adults' also reflects a misunderstanding of sexual behavior between clergy and congregants. It is assumed that because two people are adults that there is consent. In reality, consent is far more complex. In order for two people to give authentic consent to sexual activity there must be equal power. Even if the congregant or student may initially be a willing participant in the faith leader's misconduct. The fallacy is that he/she is a consenting participant because consent is not an option in a relationship where there is an imbalance of power.
A problem that has arisen, time and again, in conversations around this matter is that certain Zen and Tibetan teachers have convinced their students to give up their critical thinking faculties and to ignore their own sense of appropriate boundaries. Currently there are no checks on Buddhist teachers to prevent sexual and physical abuse. Given that Sogyal Lakar's abuse goes back decades, with one student settling a 1994 $10 million lawsuit out of court, it is likely that other prominent Tibetan Buddhist teachers knew or had reason to know that he was an active sexual predator and abuser.
The Dalai Lama recently spoke out about courageously toppling certain "rotten" institutions including "some Tibetan Lama" (namely the leader of Rigpa):
https://www.youtube.com/watch?v=2fWZWwSSkXs
In the wake of
#MeToo
, it is all the more important to call out men who create jokes like this that normalize 
rape culture
and
toxic masculinity
. Currently, many of the promulgators of this toxic culture are hiding behind terms like 
samaya
,
guru
devotion, and
Vajrayana
. But a growing number are clear that student-teacher relationships must have boundaries, codes of ethics, and that consent is not a joke. Tenzin Peljor, a fully ordained monk living in Europe, has compiled
a growing list of teachers who have ethical and/or legal claims
out against them along with helpful articles for understanding various potentially controversial topics in Buddhism.
With his social media reach and global following, Dzongsar Jamyang Khyentse is in a great position to push forward serious proposals to listen to women, first and foremost those who have been victims of Tibetan Buddhist teachers, and to eliminate structures of violence.
The full "contract" posted at the Dzongsar Jamyang Khyentse facebook page can be downloaded
here
 (warning, language is graphic and not appropriate for children).