The Dalai Lama has many interests. As a child in Tibet's Potala Palace he studied Tibetan philosophy, meditation, and politics. He was, after all, being groomed to be the religious and temporal leader of the Tibetan people. A keen student of Tibetan Buddhism will remind you that there were several branches or schools of Buddhism there at the time, so the Dalai Lama's leadership in that sense was not Pope-like. And a keen student of Tibetan politics will tell you that the Dalai Lama's temporal authority, based in Lhasa and snaking through valleys and around affiliate temples outward toward several border crossings, was also quite limited and fragile, even in the 1930s and 1940s.
Nonetheless, while his temporal authority over Tibet was lost with the Chinese invasion and occupation of 1951-9, his spiritual authority has widened to embrace other schools of Tibetan Buddhism (unofficially) and to touch the lives of countless people around the world of different faiths or no faith at all.
The Dalai Lama also played with pocket watches, a car and a telescope (gifts to his predecessor from foreigners) in his youth. Later, when the opportunity arose to engage in deep and lasting conversations with Western scientists through the early and ongoing Mind and Life dialogues, he took it. He has also given invited talks to scientific organizations and stated, "If scientific analysis were conclusively to demonstrate certain claims in Buddhism to be false, then we must accept the findings of science and abandon those claims."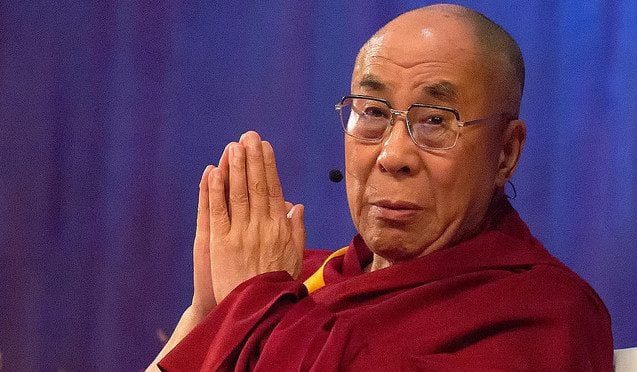 Last fall, when confronted with the overwhelming evidence of sexual misconduct on the part of popular Tibetan teacher Sogyal Lakar, head of a multi-national and multi-million dollar network of centers called Rigpa, he plainly said that this man is a "disgrace" and that such figures represent a threat to the institution of Tibetan Buddhism:
…very bad impression about monastery or monk – very bad. So we must pay more attention.

You should not say, "oh this is my guru, whatever the guru says I must follow" – that is totally wrong. The Buddha himself mentioned, "my teachings, you must examine."
When one discovers "rotten institutions," as he went on to describe Rigpa, one has a responsibility to reach out and contact the media, to publicise the problem in the hope of eradicating it.
And just last month
he reiterated a secular stance to dealing with our human problems
that he had voiced before, stating that, "Although I am a Buddhist monk, I am skeptical that prayers alone will achieve world peace. We need instead to be enthusiastic and self-confident in taking action."
If there were to be a patron saint of Progressive Buddhism, it would be the current Dalai Lama, Tenzin Gyatso.
So it should come as little surprise that today, delivering remarks to foreigners in India, the Dalai Lama expressed continued optimism about humanity:
"On the future of humanity, I feel very much optimistic. So I make some effort as my share as one of the 7 billion human beings. My number one commitment is to promote the sense of oneness of the entire 7 billion human beings. We are same, physically, mentally and emotionally. Too much concern on nationality and religion is outdated."

"We have [a] common responsibility towards the wellbeing of entire human beings," he said.

"In the early part of the 20th century, when one nation declared war on the other, every citizen joined the war effort. This has no longer been the case from the later part of the 20th century. Many Americans were against the Vietnam War and during the Iraq War, millions expressed their desire for peace. So humans, I feel, are becoming more mature and reasonable in their thinking."
(*lightly edited for grammar; from the Central Tibetan Administration)
This expression of optimism and progress is part of our shared human inheritance. It is found in the writings of Immanuel Kant, in the work of Unitarian abolitionist Rev. Theodore Parker, who first wrote about the "moral arc of the universe," the life of Abraham Lincoln, who spoke of the better angels of our nature, Rev. Dr. Martin Luther King, Jr., who also spoke of the moral arc and of his dream for a better future, and numerous thinkers before and today.
This progress is not given to us, as these thinkers knew and those watching contemporary politics can see, but it seems evident in certain arcs of history and perhaps acts as a secular source of hope in the world today.
Support independent coverage of Buddhism by joining a community of fellow learners/practitioners at Patreon.
'Like' American Buddhist Perspectives on facebook.