As letters of condolence and kind words for Senator John McCain flood in from politicians across the U.S. political spectrum, H.H. the Dalai Lama likewise had a few words to offer to his wife, Cindy McCain.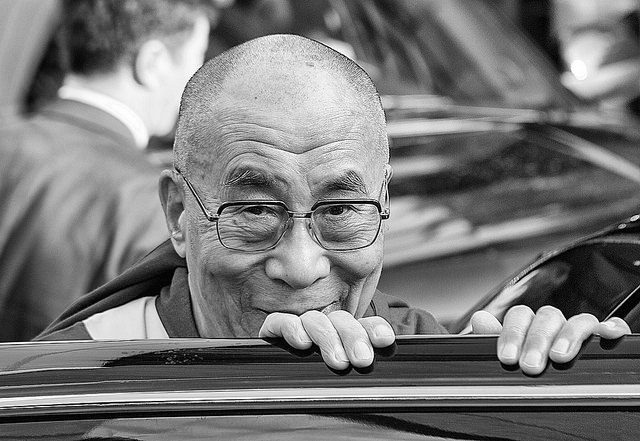 "I offer my condolences to you and all the members of your family at this sad time," he wrote.

"I had the pleasure of meeting your husband in 2008 in Aspen after long admiring his many years of dedicated service to the American people.

"I appreciated his genuine concern for democracy, human rights and the environment in general and particularly in Tibet, for which I remain grateful." (DalaiLama.com)
In the 2008 meeting, the Dalai Lama referred to McCain as, "my old friend."
The Denver Post reported, "The Dalai Lama — in Aspen for a symposium — called the presumptive Republican presidential nominee "a great friend" and said: "He's shown genuine concern about democracy, human rights and the environment in general and particularly in Tibet."
You can watch video here (with Tibetan commentary):
That meeting was also satirized by Jon Stewart on Comedy Central's The Daily Show.
Looking back at that meeting, a CBS News report said:
Republican presidential candidate John McCain on Friday called on China to release Tibetan prisoners as he met with the Dalai Lama.

After a 45-minute meeting with the Dalai Lama, McCain said the Beijing Olympic Games in August provide an opportunity for China to demonstrate it recognizes human rights. He also said the Dalai Lama is merely seeking basic rights to preserve Tibetan culture, language and religion.

"That's why I'm so disappointed by repeated statements by Chinese officials that ascribe to the Dalai Lama views and actions divorced from what he actually represents. Such rhetoric doesn't serve a cause of peaceful change and reconciliation," McCain said.

"I urge the Chinese government to release Tibetan political prisoners, account for Tibetans who have, quote, 'disappeared' since protests in March, and engage in meaningful dialogue on genuine autonomy for Tibet," McCain said.
---
Do you find benefit in this writing?
Please support independent coverage of Buddhism and join a community of patrons here.