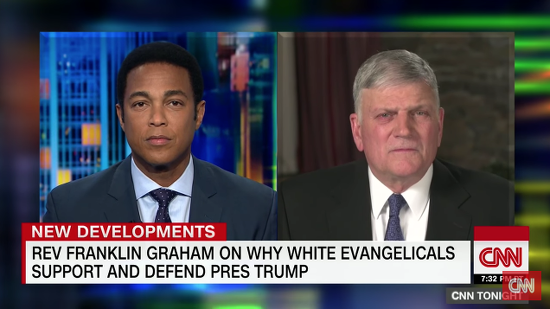 Rich Pastors in the Age of Hunger: Ever Wonder What Franklin Graham's Salary Is…?
---
Franklin Graham, son of the recently past Billy Graham, is a notable "Christian."
Billy was politically "bipartisan" while he was a registered voting democrat; while Franklin is extremely vocal in regard to where he stands politically – backing Trump, previously registered as a Republican (now independent). His father took evangelical Christianity from the margins of America and centered it to a core aspect of our culture. Franklin, on the other hand, has taken all that his father centered and run with it.
It's said that Billy Graham left behind a $25 million estate. Touted as one of the wealthiest religious leaders of our time this got me thinking what is Franklin Graham's net worth? Does Good Samaritan actually do anything that helps the poor and the powerless?
It's never cut and dry.
It's easy to come on here and just throw stones at religious leaders we don't know; I'm going to do my best to avoid this.
Here's what I found from TIME:
"Forbes has reported that two nonprofits associated with Billy Graham are among the biggest charities in the U.S. Samaritan's Purse posted revenues of $635 million in 2016, while the Billy Graham Evangelistic Association had $101 million in revenues in 2010. Both organizations are now run by Billy Graham's son William Franklin Graham III, who is paid well for his leadership roles. Better known as Franklin Graham, he received a whopping total of $1.2 million in 2008 and $880,000 in compensation in 2014 for running the two charities, according to the Charlotte Observer."
Newsweek and the Washington Post reported:
"While Graham's income hasn't received widespread media scrutiny, there has been recent attention on his son's $880,000 pay, split between two nonprofit agencies. Franklin Graham pocketed a $622,000 salary as head of Samaritan's Purse, an international relief agency, along with about $258,000 for acting as CEO of the BGEA, according to a 2015 Washington Post article. The BGEA reported about $120 million in total revenue for 2016."
But at the same time, we see these men making these mid to high six-figure salaries… and, we don't know all of what they're doing with this money. I don't know if what Samaritan's Purse is doing is actually helping or if it's hurting; I'm unsure if he's living a life of impoverishment or if he's giving away a vast majority of money (beyond tax write-offs).

Being Poor is Expensive…
What we do know is that being poor costs someone money. As Gandhi's confidants echoed, "It costs a lot of money to keep Gandhi in poverty."
Someone has to pay for healthcare, food, clothing, and shelter. It's a constant fight for us to protect the impoverished and those flagrantly disadvantaged by a broken system.
---
[Until next time, hit me up on Facebook to follow along with future content of mine]