It's a new year. I'm not much for resolutions, but I do like to set intentions for the year. What's the difference? Resolutions feel like ways to set myself up for failure. This list contains things I can look forward to. So, here are ten things I am looking forward to seeing/doing/experiencing in western Washington in 2013.
Some of these are simple enough to do. Some require some serious family planning. Some will easily connect me to that sense of place I crave. With others I run the risk of being a white, spiritual tourist.
1. Get back to visiting Mclane Nature Trail regularly. This place is pure magic. It's an easy walk. It speaks to me. I can take the kids. It's only 15 minutes from house!
2. Go hiking at Mount Rainier. Mount Rainier is the largest mountain in Washington state. I can see it from my front door! Getting there is about a 2 hour drive. I've only been there once: hiking on a sunny spring day my sophomore year at college. (I believe I went hiking in my doc martins and jean shorts – 1994, baby.)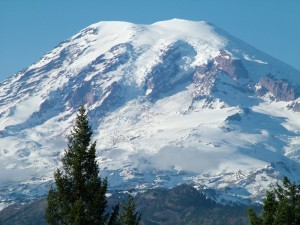 3. Visit Nisqually. It's a watershed and a tribe. I would like to go walking there and I would like to learn more about the people. It is only a handful of exits north of Olympia on the freeway.
4. Wild harvest nettles and devil's club. I have a love of these two plants. They are both complex plants – so beneficial and so hard to handle. I would like to learn to work with both of them. You can buy stinging nettle tea easily in the supermarket, but I'd like to learn to work with the plant myself. Devil's club is even more cantankerous than stinging nettles, but the benefits, both medicinal and spiritual, of this plant seem well worth the challenges.
5. Visit Tsubaki Grand Shrine, the main Shinto shrine in North America. It's a couple of hours north of Olympia, but I have heard that spirits are powerfully present here. This is a place that my entire family wants to go to. We have a love of Japanese culture and Shinto speaks to us.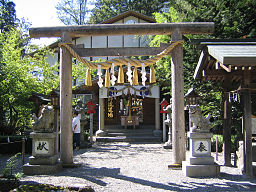 6. Go clamming. My friend, Daniel, loves to go clamming. I plan to ask him to take me with him next time he goes! This part of Washington is known for oysters, geoducks and clams, particularly razor clams. I don't think I've ever had a razor clam. I really, really love eating locally. You are what you eat, and there's nothing more profound to me than connecting to the land by hunting or gathering food. Since I don't hunt or know anyone with a boat, this seems like a good way to begin.
7. Visit the Longhouse at the Evergreen State College. I would like to take my kids to visit this. The longhouse is a type of structure that Native Americans built and this particular one serves as a center for education about area Indian tribes. I admit I haven't done much in this area, but learning about area tribes is really important to me.
8. Visit Snoqualmie Falls. This is a beautiful and sacred falls in Washington. It's also a huge tourist site. But as one of the major sacred in the state, I think it would be a good place to visit.
9. Visit Wolf Haven in Tenino. This place works for the conservation, rehabilitation, and education of wolves.
10. Go fishing. I just need to find some one with a boat…..