Oakland. The city of my birth. The city where my daughter was born. The city where my mother was born. Her mother was born one city over in Berkeley. If any place is really my "home" on this planet, this must be it. And yet, I've struggled with this place. I leave it quickly and come back only under duress. My friends point out that I seem to be happy here, and they wonder why I'm so anxious to go. It's not hard to explain. There's too much history. And the Bay Area isn't the place I grew up any more, anyway, I tell them. It's changed.
But now I'm back.
Again.
About a year ago I was drawn down here from Washington state by a combination of events that would have made a fantastic mythic tale. There were coyotes involved, and then eagles, and finally hummingbirds. There were mountains in the tale, including one scary mountain in particular that white men call Devil. There was a family mystery and a coming of age. While I was here my life was transformed. Ideas I'd dreamed up about work and education became real. I was invited to speak in Paris! And then I left here with the tale unfinished.
I was warned that I'd have to come back.
I really didn't want to.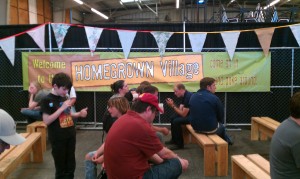 I am an unabashed evangelist of a certain sort of optimism that says that we can create a better world for ourselves and our children by relocalizing ourselves. We need to do more things in community and rely less on the outside world. That doesn't mean that we shouldn't have trade, or that any group of people needs to be self-sufficient. There's a difference between thinking that you can do it all on your own and realizing that you can do a lot more of it close to home.
I believe that we can build this better world through acts of kindness, through acts of permaculture, and through acts of creative making. I believe that we can leverage the power of tools that were created through thoughtless growth and consumerism to change our society's focus to a kind of degrowth and realistic ecological thinking. There are many places where communities who think like me can be found. Detroit. Tel Aviv. Seattle. London. Paris. But Oakland is the the place where my atoms first came together, where my cells first split, where I first stuck my hands in the dirt and cried, "Dirty! Wash me, Daddy!!"
Alas, no one would have expected me to grow up and join a CSA where part of the commitment was 8 hours a month of farm work, but I did. And now I'm sitting in a friend's living room realizing that I do have a lot of work to do here.
This community is vibrant. From the depths of the ghetto new paths are are being built. From the midst of a city with gun problems, gang violence and a stark gap between the rich and the poor, the immigrants and the 5th generation mothers and fathers of all colors are rising up. And I realize, I should come to grips with my history or let it go, roll up my sleeves and do what's needed right here at home.