I couldn't have imagined a better beginning to May. Last weekend was the Procession of the Species parade and art walk. May first was celebrated by local anarchists with a picnic in the park. I took my kids to all of it. We played and drew and wove ribbons around a maypole in the spring sunshine.
Below are some pictures from the Procession parade. Please click on this link to see many more photos of the weekend, as well as some video clips. [Note: this is not my site or my photos, but were among the best I could find.] I recommend numbers 4, 7 and 12! The parade always ends with the huge samba group. This year they were dressed up as wolves. What's fun is that many people just join in and follow the parade out to the sound and dancing of the samba section.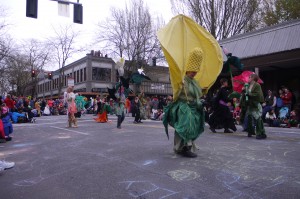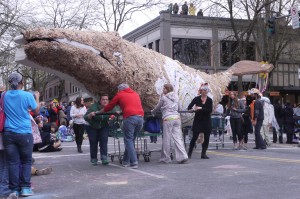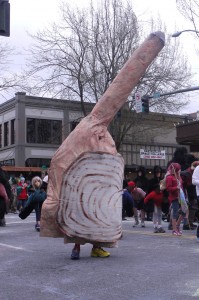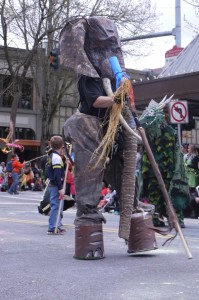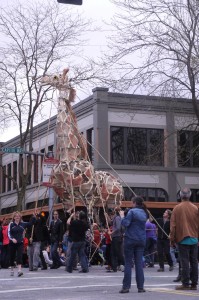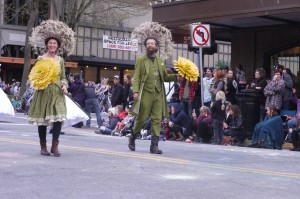 Marching in the parade with my son's preschool, all dressed up like a garden, was a great way to experience the community. I got to see the community from the inside. Looking out at the spectators I realized that many of them were dressed up and participating, even if they were not formally in the parade. The town passes out chalk to entertain the families as they wait for the parade to start; the streets are colorful for a mile or more! The town, while rather stylistically homogeneous, wasn't as white as I thought. The young people (young families, students, and people in their 20s) were definitely represented well. I can imagine that this weekend would be the most fun as a kid or teen!
I also loved being part of a celebration of the land, the earth, and nature. Creativity was honored. Human connection with other living species was represented. The community came together. And then I got to follow that up with a May Day in the park.
Spring is really officially here. Sunshine, lilacs, and parades make it official!