So much of magick is about synchronicities. Here's a sweet one: James O. Davies book A Year at Stonehenge
is set to come out on November 1 and Stonehenge itself is getting a new visitor center on December 18. That gives you a month and a half of staring at beautiful pictures and fantasizing about your visit before you can see the real thing with the full museum experience. The book's publisher sent me a review copy, and when I sat down to look through the pages at last this week, I looked up from the book as a BBC piece about the completion of the visitor center came on the 1 o'clock news.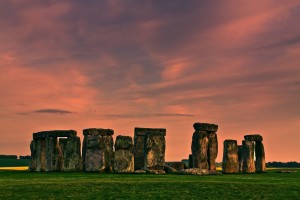 I've never actually been to Stonehenge. When I lived in England I visited Avebury fairly frequently, visited the Rollright Stones a few times and took just one trip down to Glastonbury Tor, but I never quite made it over to see the most famous ancient landmark in England. The strongest association I have with Stonehenge is the memory of my 8th grade art teacher telling us about her summer trip to England and the amazing experience she'd had at Stonehenge.
This book is just beautiful. I'm not sure why they call it "A Year at Stonehenge" considering that the text in the book makes it clear that the pictures were taken over many years, but that's not so very important. What is important is that you can flip through these pages and get a sense of the immense beauty and power of this place at all times of the year. There are pictures of Pagans at the solstices. There are pictures of the stones in the morning fog. There are close up details of ancient and not-so-ancient graffiti carved into some of the stones. There is one picture that I find especially striking on pages 32 and 33, where the stones are set in silhoette against a dusky sky and the light and dark patches in the grass stretching out from the stones makes it look like the henge is surrounded by sunbeams. Another dusk photo on page 90 is stunning, with light inside a keyhole, and a crescent moon sitting just above the henge.
An introduction by Mike Pitts explains some of the history of Stonehenge as well as a bit about the history of the making of this book. The photographer's note then gives a short explanation about why Davies took these pictures, and what this place means to him personally. These short pieces, along with the captions alongside the images throughout the book, give you just enough information to put what you see into context, but there is no question that this book is meant to be meditated upon more than read. The images draw you into the magickal landscape of a place which is both real and fantastical at once.
I don't know when I'll be able to make it down to Stonehenge, but this book has certainly stirred the desire for it in me. Perhaps sometime in 2014 I'll have the chance to visit, spend some time in the new visitor center, and meditate on my own in the ancient landscape around this most famous of standing stones.