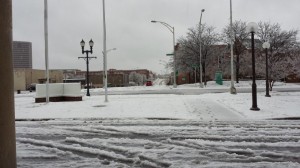 It seems as if Greensboro, North Carolina did not want me to leave. Of course, it's all just coincidence. There is no meaning behind the force of nature. That's what our scientific knowledge tells us, anyway. The world just does what it does. The laws of physics and the chaotic nature of the global systems that interact with each other cause weather patterns. The Spirit of Place has no say in the snow fall or ice conditions that hindered my travel. That's just silly talk. But there it is.
Not once, but twice since I first arrived in North Carolina I have had to leave that place, and not once, but both times, unusual snow and ice delayed my travel. Like an elderly grandmother, lonely for familial contact, I was held back a little longer by this place before I could be on my way.
I was supposed to take a train from Greensboro to Washington, D.C. on Friday. It started snowing in Greensboro on Thursday. Greensboro is not a place accustomed to snow, so even the threat of a single inch accumulation was enough tip close down schools and places of work. I wasn't too worried, though. I had tickets on Amtrak for my travel I Friday, and trains are far more reliable in those winter conditions than planes or buses could be. Just in case, I checked on my train before I left the house Friday morning. Amtrak said it was on time, so I packed my things into the car and my friend dropped me off at the station.
8:40 am came and went. The train did not arrive. The schedule board said the train would arrive by 9 and leave by 9:15. At 9:30 the board said that the train would arrive by 10. At 11 the board said the train would arrive by 11:15. And so the day continued. The snow kept falling outside. The would be passengers of train 80 to New York kept waiting. At 1:30 I the afternoon, nearly every mobile phone in the station rang with an automated message saying that our train had been cancelled. A line formed at the ticket window as people attempted tip rebook. I called Amtrak instead. I was told that power lines had fallen across the tracks and no trains would be coming into the station for the rest of the day. I could not rebook for Saturday, either. I would have to find another way to get to D.C.
I went to Greyhound to see if I could catch a bus. The man behind the counter looked at me with bored eyes and said that the bus was broken. "What do you mean the bus is broken. You are a bus company. Don't you have other buses? " No, he told me, the bus to D.C. was broken. I'd have to find another way to travel. I tried to find a flight online, but the best I could find was a plane leaving Greensboro at 5pm on Saturday and arriving in D.C. at 7 am on Sunday. Fourteen hours for a trip that takes 5 hours by car. That's absurd! But the inclement weather had forced to many cancellations in the past two days and redirecting passengers was causing the trouble. So I decided to rent a car.
I booked a car at Avis. I got a ride to the airport and went to the rental counter there's tip pick up my car. It would be much more expensive than my train ticket, but I had to be in D.C. and that's just what I'd have to do. I handed the clerk my drivers license and my debit card. At least I had plenty of money to cover the rental and the deposit. But they had tip run a credit check first.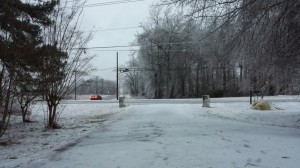 And this, my dear friends, is where things got really surreal. You see, I have no credit. Not good credit. Not bad credit. Just no credit. For years I have paid for things in cash. I have eschewed the use or possession of a credit card. I have rented rooms, but no actual apartment in the U.S. (I much prefer living in intentional community than by myself, anyway.) I have not had a utility in my name since some time in my late twenties. So of course, Equifax told Avid that they couldn't rent me a car with just a measly debit card.
The man asked me if I had a credit card instead. No. I do not.
Several hours of back and forth ensued as I simultaneously attempted to rent a car from any other company using my debit card and put out a distress call to the corporate sponsors of the not for profit where I work and the event I was heading to D.C. to run to ask if anyone had a corporate account with a rental agency and could help me get a car. By around 5 at night I gave up.
I turned to my friend and asked her to drive me to the hackathon. She laughed and quipped, "Maybe the gods just don't want you to go to this thing. Have you considered that? " But she agreed to take me anyway. She packed an overnight bash for herself and her twin boys and we headed north. (And this is where I will point out for posterity that both she and the boys were instrumental in helping the winning projects take shape, and so it might be worth wondering if it wasn't just that the gods wanted them to come to Washington with me.)
We slept in a hotel just south of Washington on Friday night and arrived at the hackathon exactly when my co-worker did the next morning. All is well that ends well. But I wonder what would have happened if I had been in Greensboro in the summertime.